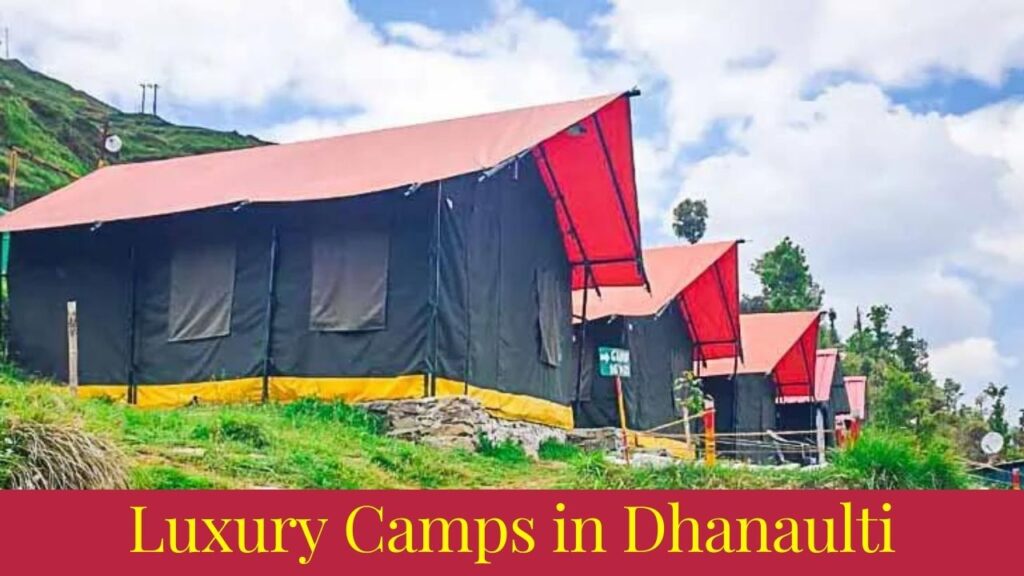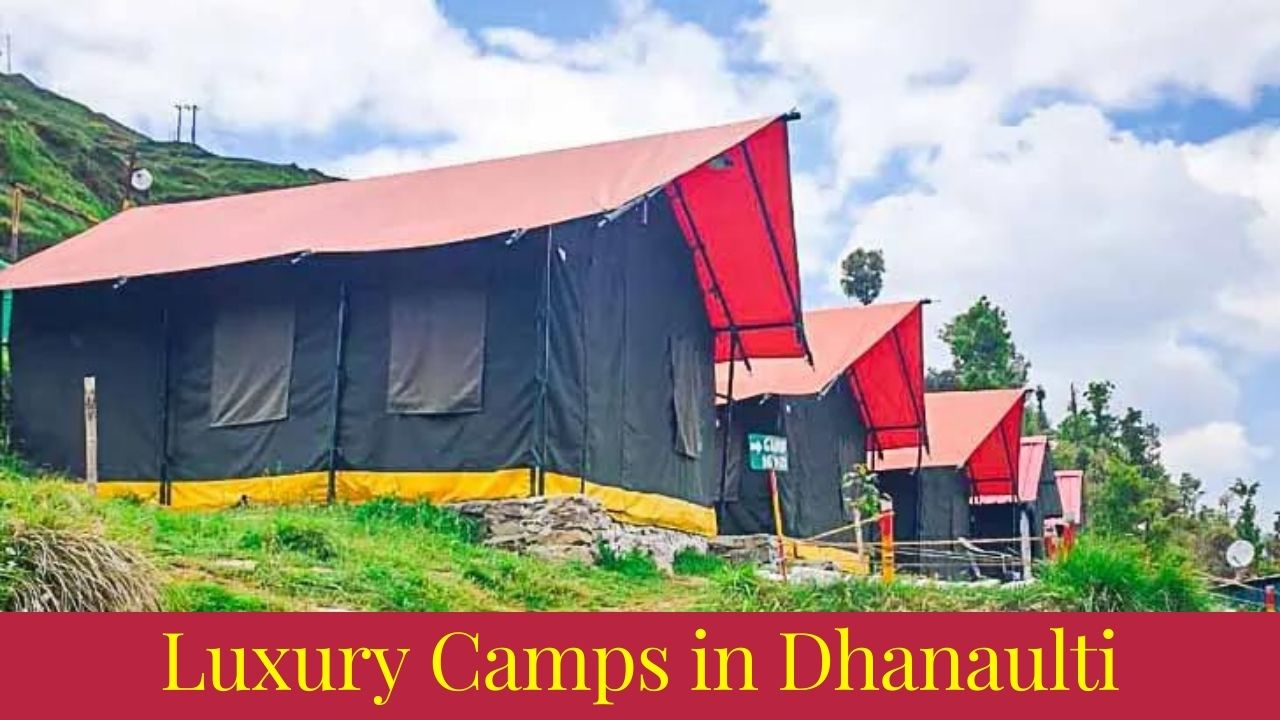 Luxury Resorts in Dhanaulti For A Quick Getaway
Are you tired of your monotonous routine? Do you long for a break from the hustle and bustle of city life? Look no further because Camp O Royale, one of the finest Luxury Resorts in Dhanaulti, is here to offer you a luxurious and rejuvenating experience amidst the breathtaking beauty of Dhanaulti. Nestled in the lap of nature, Camp O Royale is the perfect destination for those seeking a true camping adventure combined with the comforts of luxury resorts. With a wide range of activities, top-notch accommodations, and personalized packages, Camp O Royale, the ultimate choice for a memorable holiday in Dhanaulti, sets new standards for Luxury Resorts in Dhanaulti.
How Does Dhanaulti Offer a Refreshing Escape from City Life?
Dhanaulti, nestled amidst the picturesque mountains of Uttarakhand, offers a refreshing escape from the chaos and stress of city life. Here's how this enchanting destination rejuvenates your soul:
Tranquil Environment: Dhanaulti provides a serene environment away from the hustle and bustle of city life. The clean mountain air, soothing sounds of nature, and breathtaking vistas create a peaceful ambience that instantly calms the mind.
Lush Greenery: The town is blessed with abundant greenery, featuring dense forests of deodar, oak, and rhododendron trees. The sight of these verdant landscapes offers a refreshing change from the concrete jungle of cities, providing a rejuvenating experience.
Panoramic Views: Dhanaulti offers panoramic views of the majestic Himalayan range, with snow-capped peaks dotting the horizon. Seeing these awe-inspiring mountains fills you with a sense of wonder and awe, transporting you to a world far removed from the urban chaos.
Tranquil Walks and Treks: Dhanaulti presents numerous opportunities for leisurely walks and invigorating treks amidst nature. The quiet trails, accompanied by the gentle rustling of leaves and chirping birds, allow you to reconnect with the natural world and find solace in its simplicity.
Adventure Activities: For those seeking excitement, Dhanaulti offers a range of adventure activities like rappelling, zip-lining, and camping. Engaging in these thrilling pursuits amidst the serene surroundings adds an element of adrenaline and fun to your escape from city life.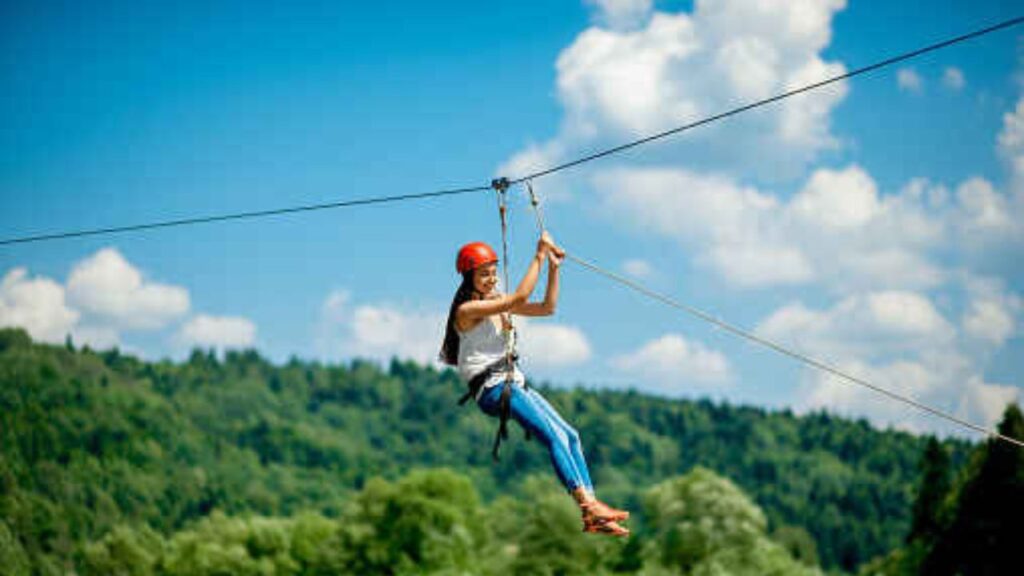 Why Should You Choose Camp O Royale as Your Luxury Resort in Dhanaulti?
Regarding choosing a luxury resort in Dhanaulti, Camp O Royale is the premier choice. Here's why you should select Camp O Royale for an exceptional experience:
Unmatched Camping Experience: Camp O Royale offers a unique blend of luxurious accommodations and authentic camping adventures. It provides the perfect balance between comfort and the thrill of the outdoors, allowing you to experience the true essence of camping.
Tailored Packages for Every Group: Whether you're a corporate group, a school or college excursion, or a family seeking a getaway, Camp O Royale understands the diverse needs of each group. They offer tailored packages that cater to your specific requirements, ensuring a memorable and enjoyable stay for everyone.
Wide Range of Activities: Camp O Royale offers thrilling activities, such as the Mowgli Walk, Burma Bridge, Commando Net, and Suspension Bridge. These adventures push your limits and provide an adrenaline rush, making your stay at the resort unforgettable.
Impeccable Hospitality: The staff at Camp O Royale is committed to providing top-notch hospitality. From the warm welcome to attentive service throughout your stay, they ensure every guest feels valued and well cared for.
Idyllic Natural Setting: Nestled amidst the scenic beauty of Dhanaulti, Camp O Royale offers a tranquil and idyllic natural setting. The resort seamlessly blends with its surroundings, immersing you in the breathtaking landscapes and experiencing nature at its best.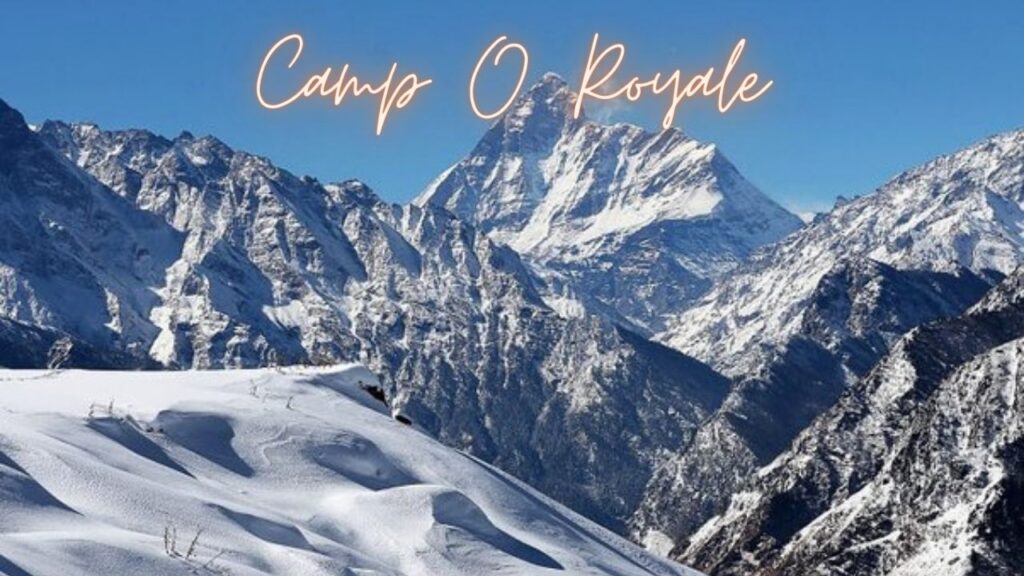 What Thrilling Activities Await You at Camp O Royale?
Camp O Royale offers many thrilling activities that promise to elevate your experience to new heights. Get ready to embark on an adventure like no other with the following activities:
Mowgli Walk: Test your balance and bravery as you traverse a rope walkway high above the ground. This exhilarating activity will leave you amazed and proud of your accomplishment.
Burma Bridge: Prepare for an adrenaline-pumping experience as you navigate a bridge made of thick ropes while holding on to two ropes for support. It's a thrilling challenge that pushes your limits and rewards you with a sense of accomplishment.
Commando Net: Channel your inner commando as you conquer a net made of ropes. Climb, crawl, and navigate through this classic training aid, building strength, agility, and confidence along the way.
Suspension Bridge: Brace yourself for a nerve-wracking adventure as you take an adventurous walk over a suspension bridge. With every step, you'll feel the excitement and a sense of achievement as you conquer your fears.
Nature Walks and Hikes: Explore the stunning landscapes of Dhanaulti with guided nature walks and hikes. Immerse yourself in the natural beauty, spot wildlife, and breathe in the fresh mountain air while experiencing a deep connection with nature.
Team Building Activities: Camp O Royale offers a range of team-building activities that foster collaboration, communication, and camaraderie among participants. Engage in games and challenges to enhance teamwork and create memorable bonding moments.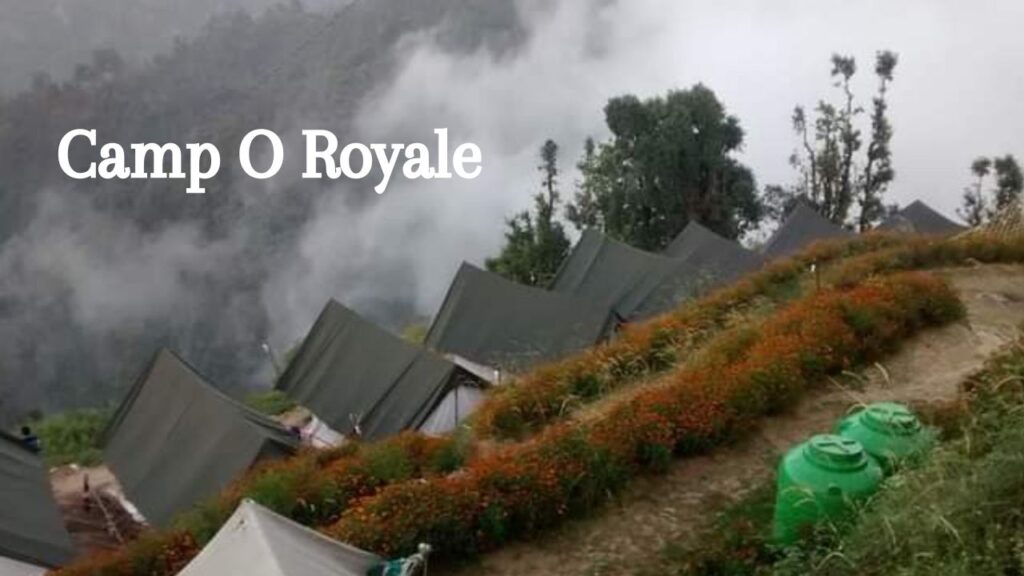 What Are the Popular Trekking Trails in and around Dhanaulti?
Dhanaulti, nestled in the scenic mountains of Uttarakhand, offers a haven for trekking enthusiasts with its captivating trails. Here are some popular trekking trails in and around Dhanaulti that showcase the region's natural beauty:
Surkanda Devi Temple Trek: Embark on a spiritual and scenic journey to Surkanda Devi Temple, 9,995 feet. This trek takes you through dense forests and meadows and offers breathtaking panoramic views of the Himalayas.
Tehri Dam to Chamba Trek: Traverse through picturesque landscapes as you trek from Tehri Dam to Chamba. This trail treats you to mesmerizing vistas of the Tehri Lake, terraced fields, and charming villages, making it a delightful experience.
Kanatal to Kodia Jungle Trek: Immerse yourself in the serene beauty of Kodia Jungle as you trek from Kanatal. This trail takes you through dense forests and cascading waterfalls and offers glimpses of wildlife, providing a truly immersive experience.
Dhanaulti to Surkanda Lake Trek: Explore the hidden gem of Surkanda Lake on this invigorating trek. The trail winds through enchanting forests and meadows and offers panoramic views of snow-capped peaks, making it a rewarding adventure.
Nag Tibba Trek: Just a short distance from Dhanaulti, Nag Tibba is a popular trekking destination. It offers a moderate trek with breathtaking views of the Himalayas, quaint villages, and dense forests, providing a perfect blend of adventure and natural beauty.
What are the Options Available in Packages at Camp O Royale?
Camp O Royale offers a range of thoughtfully designed packages to cater to various preferences and group sizes. Here are the options available in packages at Camp O Royale:
Corporate Package: Ideal for corporate retreats and team-building activities, the Corporate Package at Camp O Royale provides a captivating environment for professionals to unwind, bond, and rejuvenate. It perfectly balances adventure activities, comfortable accommodations, and conference facilities to foster teamwork and relaxation.
School/College Package: The School/College Package is designed to offer an adventure-based learning program for students. It provides a unique opportunity for educational institutions to organize excursions where students can acquire new skills, enhance leadership qualities, and forge lasting friendships in the lap of nature.
Family Package: The Family Package at Camp O Royale is tailored to create memorable family experiences. It allows parents and children to reconnect with nature, engage in thrilling activities together, and enjoy quality time amidst the serene beauty of Dhanaulti.
Each package at Camp O Royale is carefully curated to provide a seamless blend of adventure, comfort, and personalized services. Whether you're a corporate group, a school or college, or a family, Camp O Royale ensures an unforgettable experience tailored to your needs and preferences.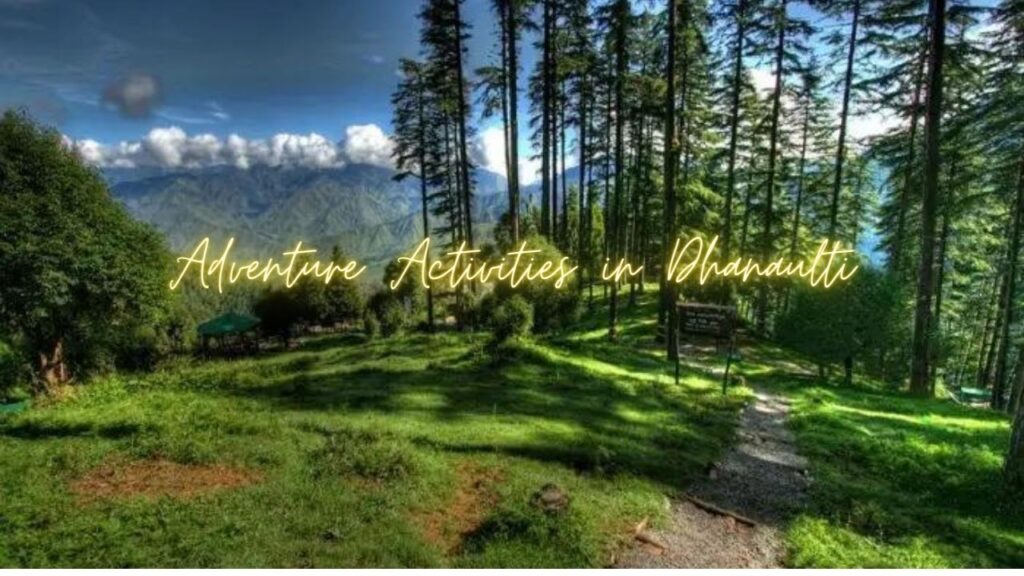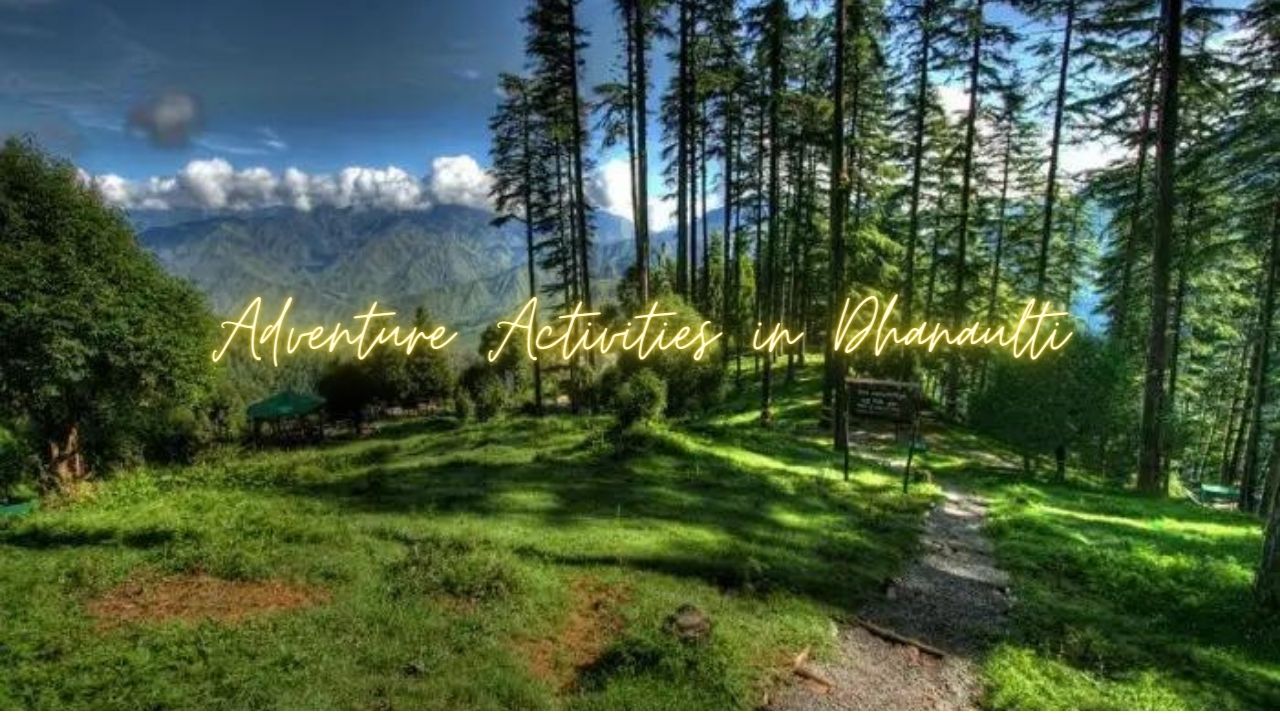 What Are the Hidden Gems and Offbeat Destinations in Dhanaulti?
Dhanaulti, known for its serene beauty and captivating landscapes, is also home to some hidden gems and offbeat destinations worth exploring. Here are a few of these lesser-known treasures:
Potato Farm: Located near Dhanaulti Eco Park, the Potato Farm is a unique attraction where visitors can witness the cultivation of potatoes amidst the breathtaking Himalayan scenery. It offers an opportunity to learn about potato farming and indulge in fresh farm produce.
Apple Orchard: Experience the charm of apple orchards in Dhanaulti, particularly in the nearby villages of Kanatal and Kaddukhal. These orchards offer a serene and picturesque setting where you can stroll among the apple trees, pluck ripe fruits, and savour their delicious flavours.
Dashavatar Temple: Situated in the nearby village of Deogarh, the Dashavatar Temple is an ancient shrine dedicated to Lord Vishnu. The temple boasts intricately carved sculptures and provides a tranquil atmosphere for spiritual seekers.
Chandrabadni Temple: A hidden gem near Dhanaulti, Chandrabadni Temple is perched atop a hill and offers breathtaking views of the surrounding valleys and peaks. It is believed to be one of the Shakti Peethas, making it a significant pilgrimage site for devotees.
Dhanaulti Adventure Park: The Dhanaulti Adventure Park is a hidden gem for adventure enthusiasts seeking offbeat thrills. It offers activities like zip-lining, skywalks, and rappelling amidst a stunning natural setting, providing a unique adrenaline rush.
What Are the Local Delicacies to Try in Dhanaulti?
Dhanaulti, nestled in the beautiful hills of Uttarakhand, offers a delectable array of local delicacies that tantalize the taste buds. Here are some must-try local dishes in Dhanaulti:
Aloo ke Gutke: A popular local dish, Aloo ke Gutke features boiled potatoes sautéed with cumin, turmeric, and red chilli. This flavorful dish is often enjoyed with hot rotis or puris.
Kafuli: Kafuli is a traditional Garhwali dish made with spinach, fenugreek, and a blend of local spices. It is slow-cooked to perfection and best enjoyed with steamed rice or freshly made rotis.
Bhang ki Chutney: Made from the leaves of the cannabis plant, Bhang ki Chutney is a unique and tangy condiment that adds a burst of flavour to meals. It is often served with traditional Garhwali thalis.
Singhori: Singhori is a sweet delicacy with a flattened cone of wheat flour filled with a mixture of khoya (milk solids), nuts, and jaggery. It is then deep-fried and garnished with powdered sugar or drizzled with syrup.
Bal Mithai: Bal Mithai is a popular sweet treat in the region. It consists of small, square-shaped fudges made from khoya, coated in sugar balls, and topped with chopped nuts. It has a rich, caramel-like flavour.
Take advantage of savouring these local delicacies when in Dhanaulti. These traditional dishes offer a taste of the local culture and will leave you craving more.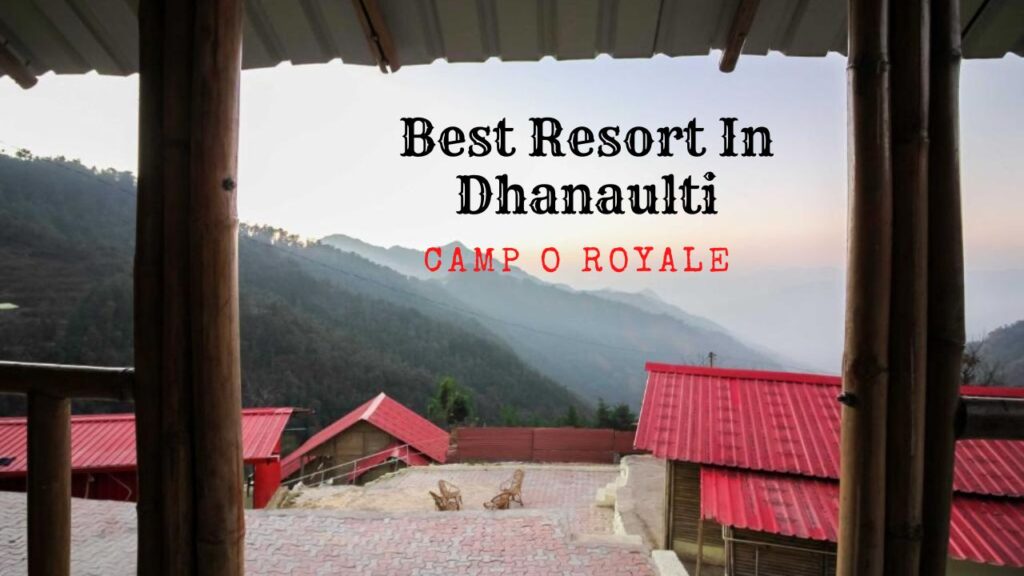 What Are the Cultural Festivals and Events Celebrated in Dhanaulti?
Dhanaulti, nestled in the enchanting hills of Uttarakhand, celebrates several cultural festivals and events throughout the year. These celebrations provide a glimpse into the rich cultural heritage of the region. Here are some of the prominent festivals and events celebrated in Dhanaulti:
Uttarakhand Tourism Festival: Held annually in Dhanaulti, the Uttarakhand Tourism Festival showcases the vibrant culture, traditional music, dance forms, and handicrafts of the state. It offers visitors a chance to immerse themselves in the local traditions and experience the true essence of Uttarakhand.
Holi: Like the rest of India, Holi, the festival of colours, is celebrated with great enthusiasm in Dhanaulti. Locals and tourists come together to drench each other in vibrant colours, dance to traditional folk music, and relish local sweets.
Diwali: The festival of lights is widely celebrated in Dhanaulti. The town comes alive with beautifully decorated homes, intricate rangoli patterns, and the glow of diyas (earthen lamps). Fireworks light up the night sky, adding to the festive atmosphere.
Ganga Dussehra: Celebrated along the banks of the Ganges River, Ganga Dussehra is an important festival in Dhanaulti. Devotees gather to take holy dips in the river and pray to Goddess Ganga, seeking blessings for purity and salvation.
Phool Dei: Phool Dei is a unique festival celebrated in the Kumaon region, including Dhanaulti. It marks the arrival of spring, and young girls go from house to house, offering flower garlands and singing traditional songs to bring blessings and prosperity.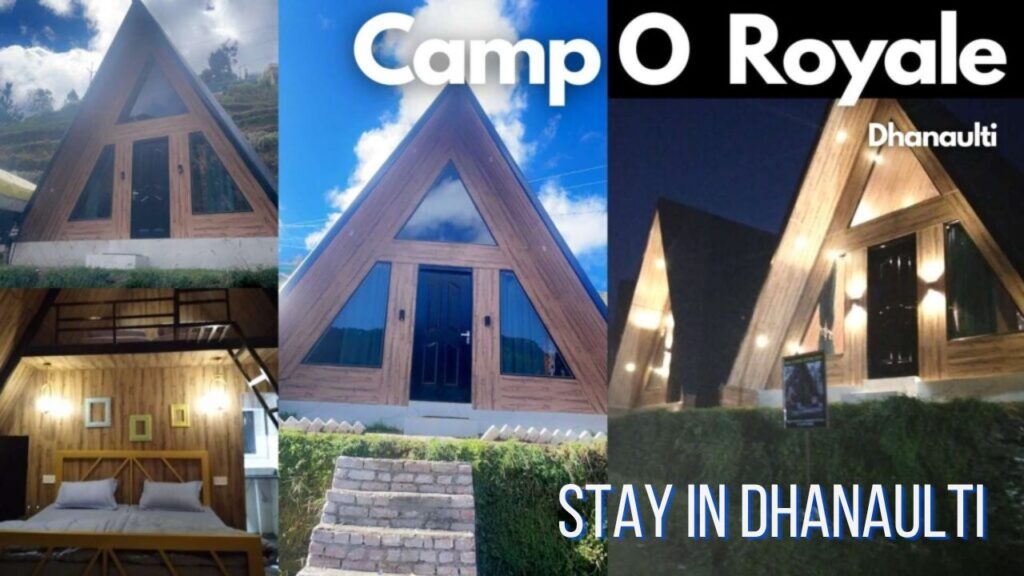 How Does Camp O Royale Create a Perfect Blend of Luxury and Natural Surroundings?
Camp O Royale masterfully combines luxury with the natural surroundings of Dhanaulti, creating a harmonious blend that enhances the overall experience. Here's how Camp O Royale achieves this perfect balance:
Architectural Design: The architecture of Camp O Royale is thoughtfully crafted to integrate with the natural surroundings seamlessly. The accommodations, whether Swiss camps or cottages are designed to complement the landscape and provide a comfortable and luxurious stay without compromising the natural aesthetic.
Scenic Locations: Camp O Royale carefully selects scenic locations that showcase the pristine beauty of Dhanaulti. Set amidst lush greenery, panoramic mountain views, and tranquil valleys, the camp offers guests an immersive experience in nature's embrace.
Eco-Friendly Practices: Camp O Royale prioritizes sustainability and eco-friendliness. From using renewable energy sources to practising waste management, the camp minimizes its ecological footprint, ensuring that the natural surroundings are preserved for future generations.
Outdoor Experiences: The range of outdoor activities offered by Camp O Royale allows guests to explore and appreciate the natural surroundings. Whether it's trekking, nature walks, or adventure sports, these experiences immerse guests in the beauty of the outdoors while providing a touch of excitement and adventure.
Luxurious Amenities: Camp O Royale ensures guests are pampered with luxurious amenities that enhance their comfort and relaxation. From plush bedding and modern facilities to fine dining experiences that showcase local flavours, every aspect of the camp's offerings exudes a sense of luxury amidst the natural setting.
Camp O Royale's meticulous attention to detail, seamless integration with the environment, commitment to sustainability, and luxurious amenities make it the perfect blend between luxury and natural surroundings in Dhanaulti.
Conclusion
Camp O Royale is the epitome of luxury resorts in Dhanaulti, offering a unique blend of camping adventures and opulent accommodations. Our wide range of activities, personalized packages, and impeccable hospitality guarantee every guest an unforgettable experience. Whether you are looking for a corporate retreat, an educational excursion, or a family getaway, Camp O Royale is your ultimate destination to immerse yourself in the pristine beauty of nature while indulging in the comforts of luxury. Book your stay with us and unlock the true essence of Dhanaulti.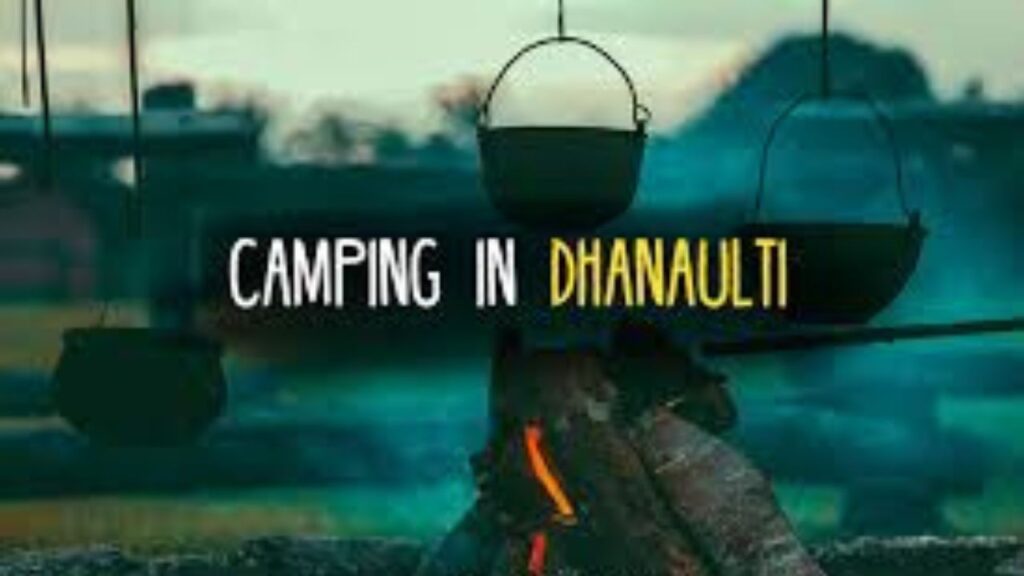 FAQs
1. Can I book accommodations and activities separately at Camp O Royale?
Absolutely! At Camp O Royale, we provide the flexibility to book accommodations and activities separately, allowing you to customize your experience according to your preferences.
2. Are the activities at Camp O Royale suitable for all age groups?
Yes, the activities at Camp O Royale are designed to cater to all age groups. From children to adults, everyone can partake in thrilling adventures and create lifelong memories.
3. What safety measures are in place at Camp O Royale?
The safety and well-being of our guests are of utmost importance to us. Camp O Royale adheres to strict safety protocols, ensuring all activities are conducted under professional supervision and with the necessary safety equipment.