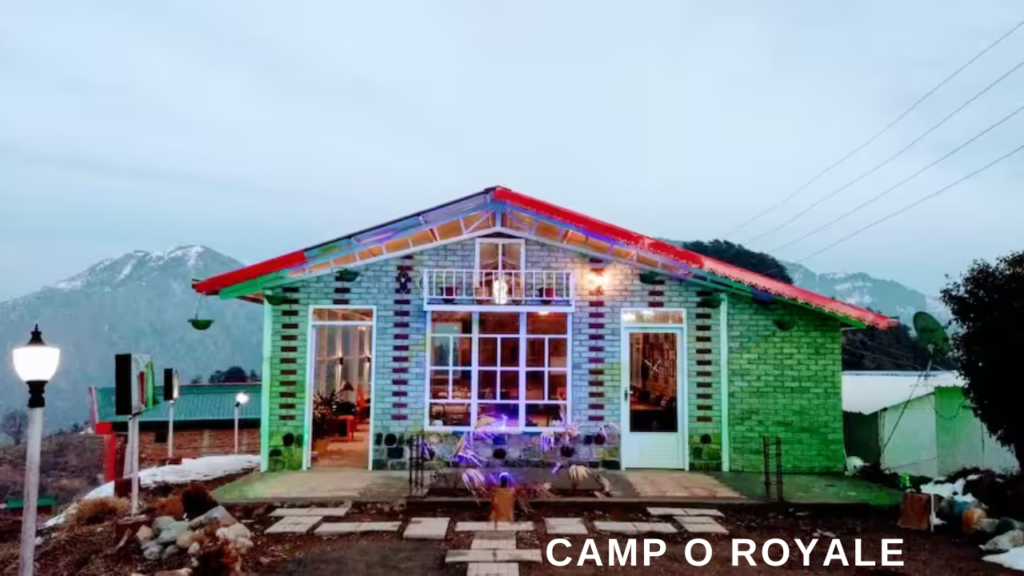 The best resorts in Dhanaulti you are invited to discover the enchanting world of Dhanaulti, nestled among the striking landscapes of Uttarakhand. Travelers from far and wide explore Dhanaulti's hidden gems due to its tranquil ambiance and breathtaking natural beauty. Look no further than Camp O Royale for a memorable getaway to this serene destination, which embodies the essence of Dhanaulti's charm.
It offers an exceptional blend of luxury, adventure, and serenity at Camp O'Royale. Nature enthusiasts and peace-seekers alike will enjoy it. Here, we're going to explore Dhanaulti's fascinating resort world, with a special emphasis on Camp O Royale's extraordinary offerings.
Find out why Camp O Royale is the ultimate destination for a nature-centric retreat in Dhanaulti.
4 Reasons why Camp-o-Royal has one of the Finest Resorts in Dhanaulti:
Location: Campo-royale lies in the heart of a lush green forest with a breathtaking view of the Himalayan mountains. The city is located 8500 feet above sea level, which provides a calm and cool climate throughout the year. Only 27 kilometers from Mussoorie and 60 kilometers from Dehradun, this resort is conveniently located.
Accommodation: The Camp-o-royale offers various types of lodging, including Swiss tents, opulent tents, premium rooms, and cottages. Our tastefully decorated rooms feature cozy beds, hot and cold water, and private bathrooms with contemporary conveniences. Its tents are spacious and have a distinct charm that blends well with the surroundings.
Activities: Visitors can enjoy a variety of activities at the resort during their stay. Mountain biking, rock climbing, rappelling, or nature walks are all options. A beautiful lawn at the resort is also available for outdoor games like cricket, badminton, and volleyball.
Food: Staying at the resort means you can participate in a variety of activities. You can hike, rock climb, rappel, mountain bike, or trek. You can also play volleyball, badminton, and cricket on the resort's lawn.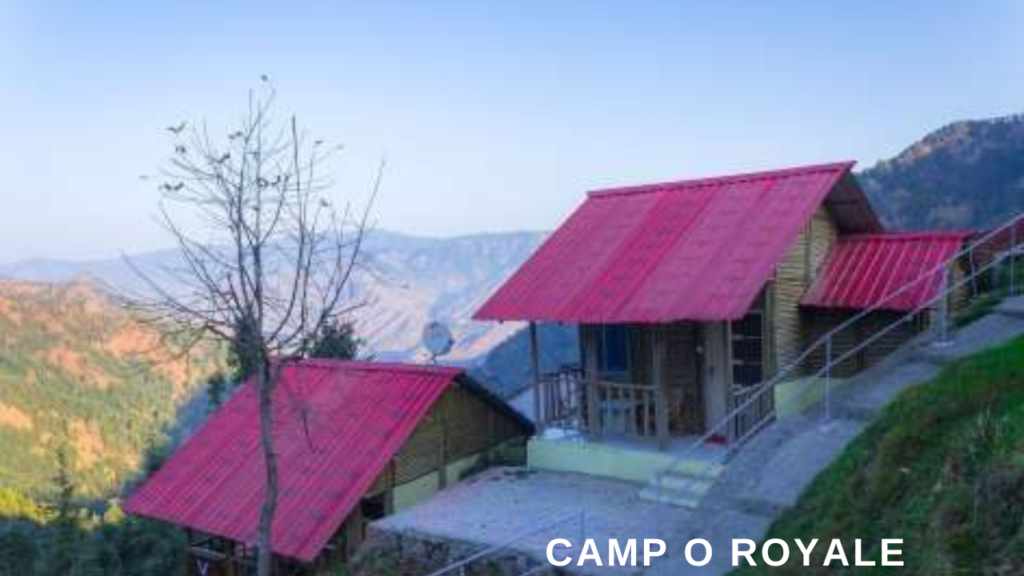 Dhanaulti's Camp O Royale Amenities 
Another feature of the resort is its multi-cuisine restaurant. Delicious and hygienic food is served in the restaurant, including traditional dishes from Uttarakhand, North India, and China. It has a lovely atmosphere, and you can enjoy your meal while admiring the magnificent mountain views.
Camp O Royale- Resorts in Dhanaulti
As well as the resort's amenities, it has excellent service. Among its amenities are a travel desk, free Wi-Fi, a parking lot, and a 24-hour front desk. Friendliness and kindness are the hallmarks of the staff who are always willing to help.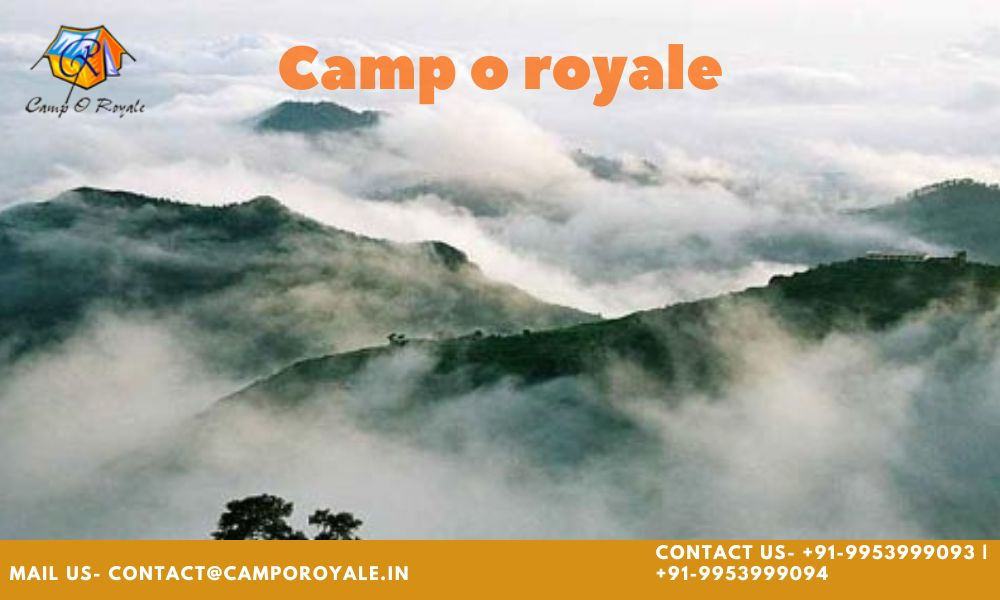 Take part in Adventure and Recreation at Camp O Royale
Guests of Camp O'Royale can enjoy an impressive array of adventurous activities at the resort. A stay at the resort is sure to be memorable, whether you're an adrenaline junkie or simply seeking outdoor fun.
Climbing rocks: Test your strength and agility as you scale rocky surfaces at Camp O'Royale. Take part in rock climbing activities under the guidance of experienced instructors, who will ensure your safety while you conquer the challenging terrain. Reaching the top and taking in the breathtaking views will fill you with adrenaline.
Hike to the Waterfall: Experience lush greenery and nature's sounds as you hike to the waterfall nearby. The sound of cascading water will guide you to this hidden gem. Immerse yourself in the mist and marvel at the waterfall's sheer beauty as you experience tranquility.
Rope climbing: Make your way down a vertical rock face using ropes and harnesses. Rappelling at Camp O Royale offers an exhilarating adventure as you conquer your fears and enjoy an adrenaline-pumping descent. Stepping off the edge and descending into the unknown is much more enjoyable with helpful instructors by your side.
Jungle Hike: Take a captivating jungle hike to explore Camp O Royale's enchanting wilderness. Along the way, expert guides point out fascinating flora and fauna as you walk through dense forests. Embrace the serenity of nature as you witness the wonders of nature up close
Nature Walk: Enjoy a leisurely nature walk around Dhanaulti. Observe the flora and fauna of the local area, breathe in the crisp mountain air, and enjoy the tranquil surroundings. You'll feel connected to nature and at peace as you stroll along picturesque trails.
Burma Bridge: Test your balance and bravery by crossing the Burma Bridge at Camp O Royale. High above the ground, this rope bridge challenges your courage. While admiring the breathtaking views around you, experience the thrill of conquering this bridge.
Climbing Ladders: Try your climbing skills at the resort as you ascend vertical ladders. Continually climb higher, overcome obstacles, and push yourself to your limits. Upon reaching the top, you will feel a sense of accomplishment and a sense of accomplishment with the proper safety equipment and guidance.
Flying Fox: Fly through the air like a bird while engaging in this exhilarating activity. Zip across a designated course while strapped into a harness. Enjoy the freedom of gliding through the air while admiring the breathtaking views as the wind passes through your hair.
Fire Pit: Relax around Camp O Royale's cozy fire pit in the evening. Join in lively conversations with friends and family around the crackling fire. In the heart of a serene mountain setting, tell stories, roast marshmallows, and make memories
Indoor Games: As an alternative to traditional outdoor recreation, Camp O Royale has an array of indoor games to keep you entertained. You can play carom or badminton with your friends. Keeping your loved ones entertained and unwinding with these games can be a lot of fun.
Conclusion
Amidst the enchanting resorts of Dhanaulti, Camp O Royale stands out as a memorable destination that combines adventure, tranquility, and natural beauty. Located in the picturesque landscapes of Uttarakhand, this resort offers an unforgettable escape from city life.
A stunning experience for the eyes awaits at Camp O Royale, which enjoys an unparalleled location and scenic vistas. It is impossible not to be awestruck by the natural beauty surrounding the resort, with snow-capped peaks, dense forests, and cascading waterfalls. Luxurious accommodations provide a serene setting for guests to relax and rejuvenate.
If you're planning a trip to Dhanaulti, make sure you check out Camp O Royale. Immerse yourself in the beauty of the hills, indulge in thrilling adventures, and create memories that will last a lifetime. Book your stay at Camp O Royale and experience the epitome of a luxurious yet adventurous getaway in the heart of Dhanaulti's natural splendor.