Experience The Best Stay In Dhanaulti With Camp O Royale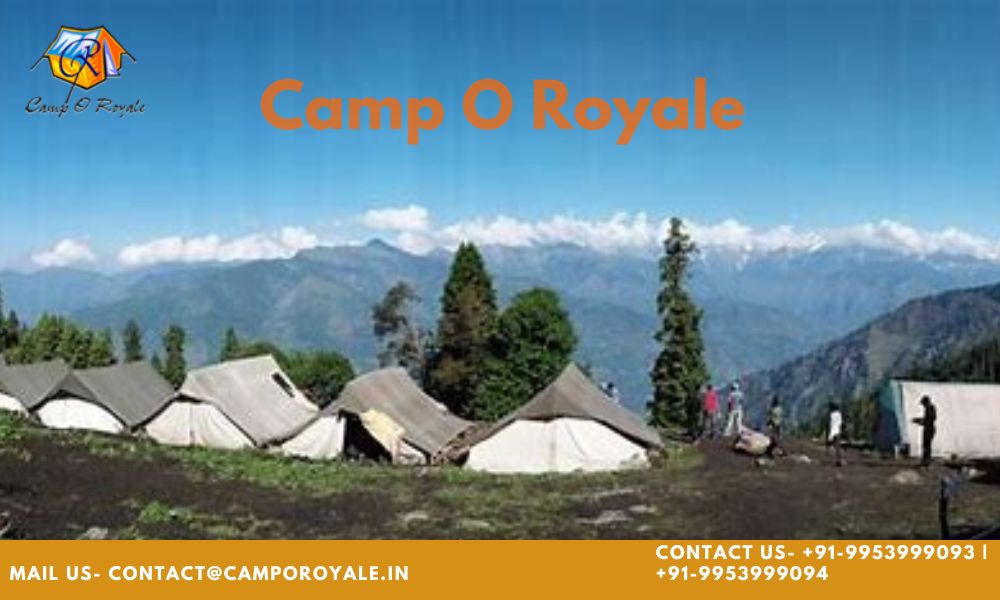 Welcome, fellow travelers, to the picturesque hill station of Dhanaulti, nestled in the lap of the Garhwali Himalayas. If you're seeking a memorable and rejuvenating getaway, Best Stay In Dhanaulti With Camp O Royale. With its stunning natural surroundings, comfortable accommodations, and many thrilling adventure activities, Camp o Royale offers an unforgettable experience that will leave you yearning for more. Prepare to embark on a journey filled with excitement, tranquility, and the perfect blend of adventure and relaxation.
What sets Camp o Royale apart from the rest?
Do you want to avoid generic accommodations that offer nothing beyond a place to sleep? Camp o Royale stands out, offering a unique and immersive experience. Here's what makes it the best stay in Dhanaulti:
Unparalleled Natural Beauty: Nestled amidst the enchanting pine forests, Camp o Royale boasts breathtaking views of the snow-capped Himalayan peaks. Immerse yourself in the tranquility of nature as you wake up to the melodious chirping of birds and the fresh mountain air.
Comfortable and Luxurious Camps: Camp o Royale understands the importance of a good night's sleep. Each Camp is meticulously designed to provide the utmost comfort and luxury. From cozy beds with plush mattresses to private en-suite bathrooms with hot showers, you'll find everything you need for a blissful stay.
Adventure Activities for Every Thrill-Seeker: Camp o Royale is a haven for adventure enthusiasts. Whether you're an adrenaline junkie or looking for a new experience, the Camp offers various activities catering to all adventure levels. Indulge in thrilling options such as trekking, rock climbing, rappelling, zip-lining, and much more. Get your heart racing and create unforgettable memories.
Gourmet Delights amidst Nature: At Camp o Royale, culinary delights await you. Relish a delectable array of local, Indian, and international cuisines that experienced chefs prepare. Dine amidst nature, surrounded by panoramic views, and savor the flavors that will tantalize your taste buds.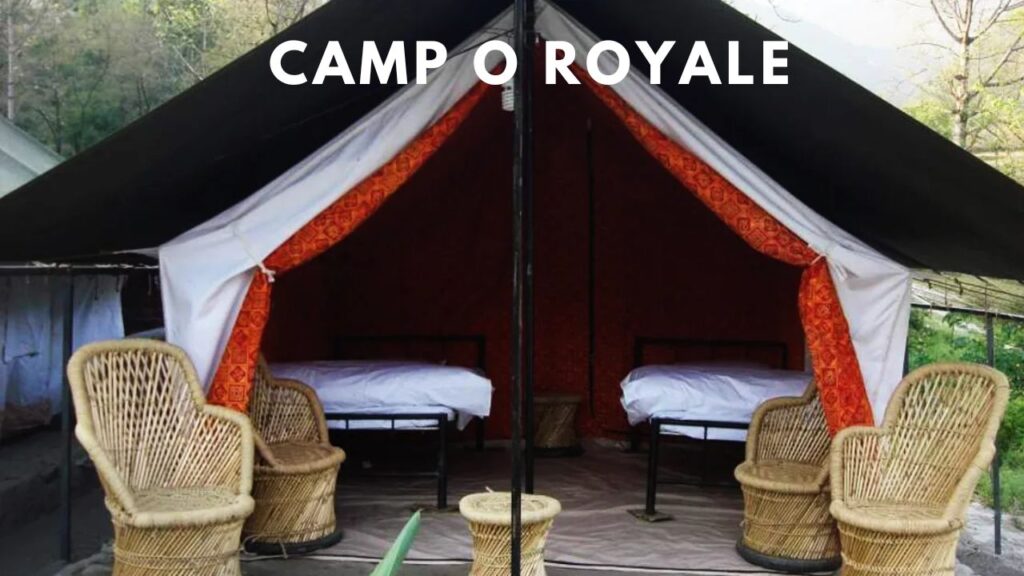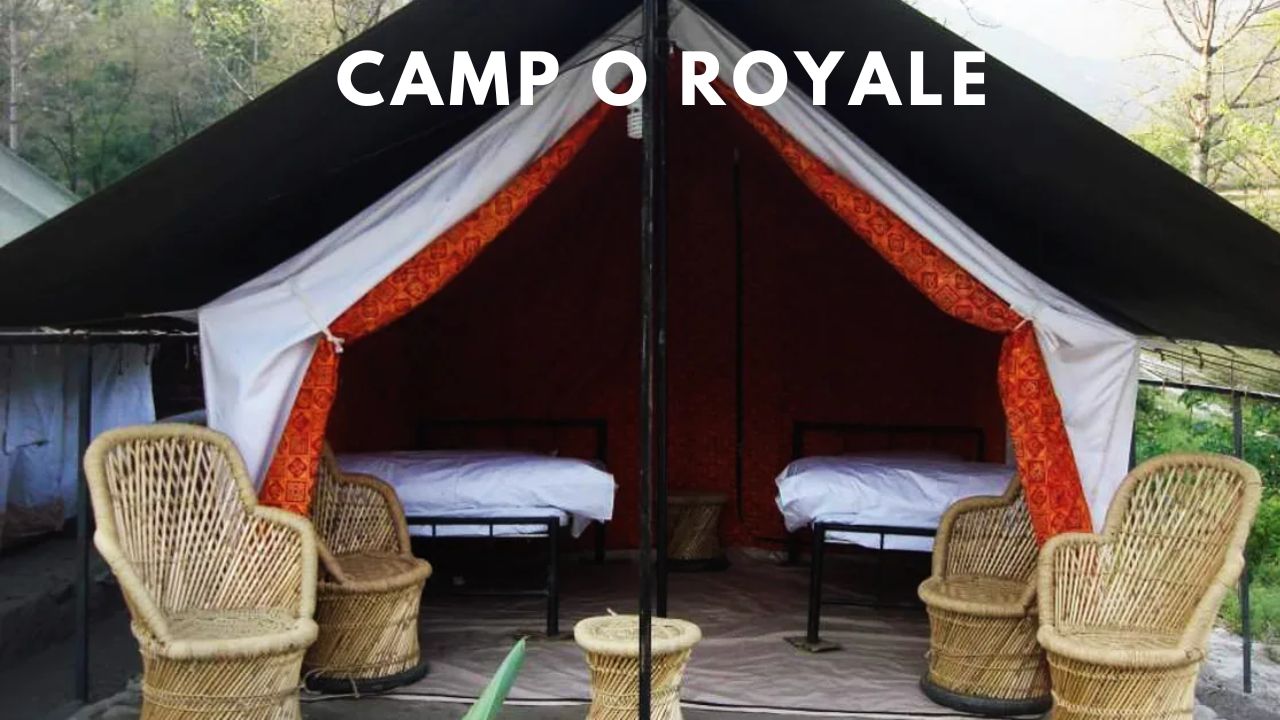 Which Camp suits your Style?
The Dreamer's Den:
Do you seek solitude and peace? The Dreamer's Den is perfect for you. Tucked away in a secluded corner, this Camp offers privacy and tranquility. Unwind in a hammock, read a book, or simply soak in the serene surroundings. Let the melodies of nature be your companion as you reconnect with your inner self.
The Adventurer's Escape:
For thrill-seekers, The Adventurer's Escape is an ideal choice. This Camp offers easy access to a myriad of adventure activities. Embark on exhilarating treks, conquer towering rock faces, and feel the adrenaline rush as you immerse yourself in the world of adventure. Challenge your limits and create memories that will last a lifetime.
The Nature Lover's Haven:
If you find solace in nature's embrace, The Nature Lover's Haven is the perfect Camp. Wake up to panoramic views of lush valleys and mist-covered mountains. Take leisurely walks amidst the enchanting forests, breathe in the fragrant aroma of wildflowers, and witness the beauty of the sunrise and sunset, painting the sky in hues of gold and pink.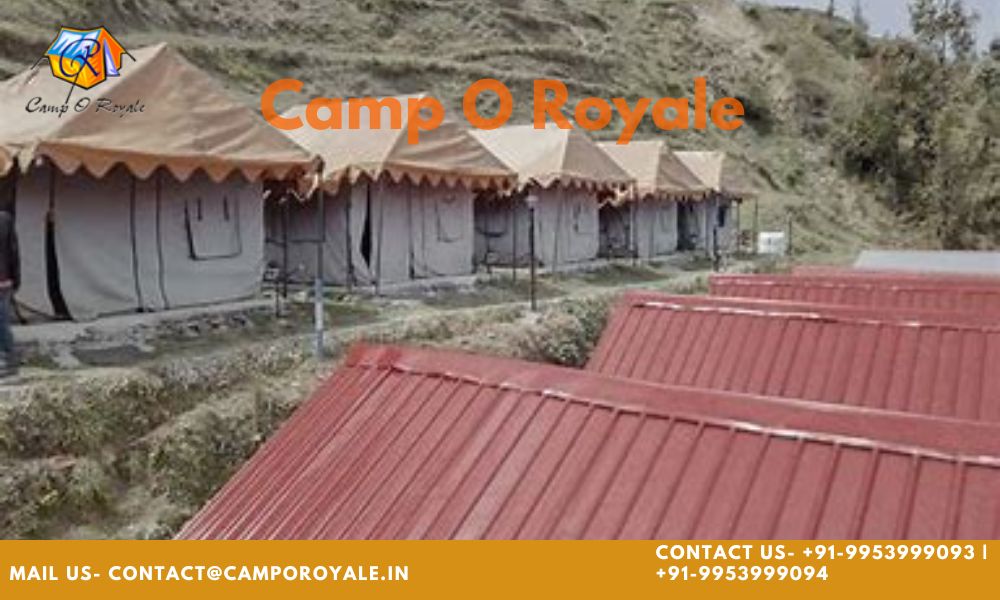 The Camp o Royale Experience:
Bonfire Nights and Storytelling:
As the sun sets behind the mountains, gather around the crackling bonfire at Camp o Royale. Engage in lively conversations with fellow travelers, share stories, and forge new friendships. Let the warmth of the fire and the enchanting tales transport you to a world of magic and wonder.
Stargazing and Night Photography:
Experience the awe-inspiring beauty of the night sky at Camp O Royale. Away from the city lights, the stars shine brightly, creating a celestial spectacle. Join the stargazing sessions led by knowledgeable guides who will unravel the mysteries of the cosmos. Capture mesmerising nightscapes through your lens and create lovely memories.
Yoga and Meditation amidst Nature:
Find your inner balance and rejuvenate your mind, body, and soul with yoga and meditation sessions amidst the serene surroundings of Dhanaulti. Let the experienced instructors guide you through the ancient practices, helping you connect with yourself and attain a state of tranquility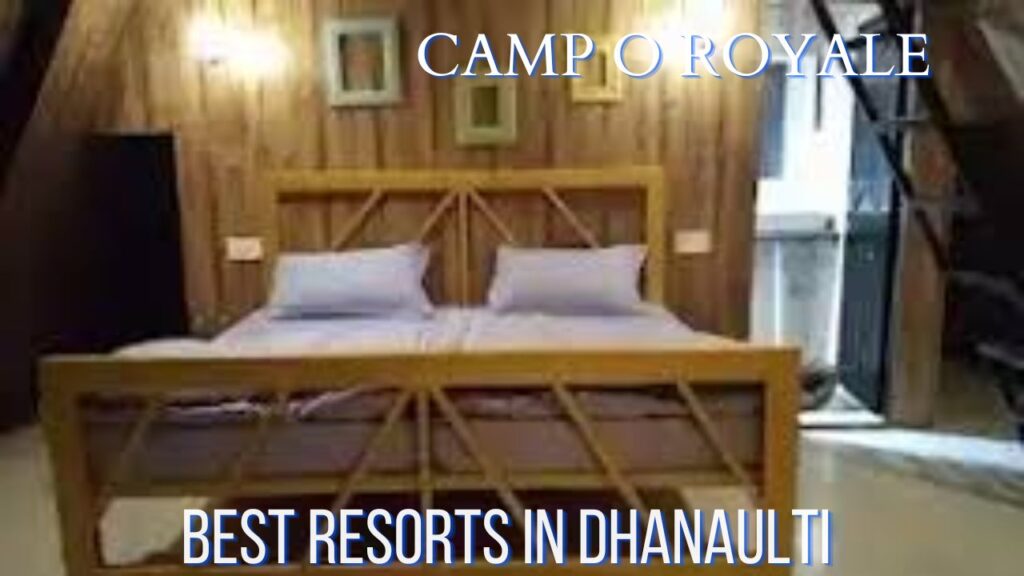 How does Camp O Royale priorities safety and security?
At Camp O Royale, your safety and security are of utmost importance. We understand that providing a secure environment is essential for our guests to enjoy their stay and engage in adventurous activities with peace of mind. Here's how we priorities safety and security:
Trained and Certified Staff:
Our Camp is staffed with highly trained and experienced professionals well-versed in safety protocols and procedures. From adventure activity instructors to camp managers, our team strictly follows all safety guidelines.
We conduct regular safety audits to assess and improve our safety measures. This includes inspecting adventure equipment, checking camp facilities, and reviewing emergency protocols. Our commitment to maintaining high safety standards is unwavering.
Adventure Equipment and Gear:
We provide top-quality adventure equipment and gear that undergoes regular maintenance and inspection. Whether it's climbing equipment, harnesses, or safety ropes, we ensure that everything is in excellent condition and meets international safety standards.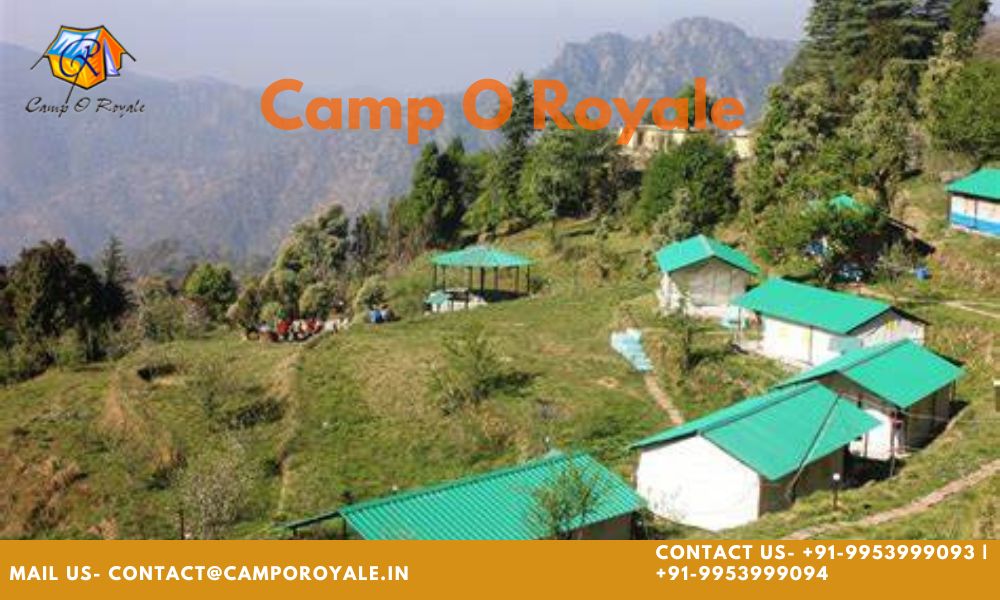 Comprehensive Risk Assessment:
Before any adventure activity, we conduct a thorough risk assessment to identify potential hazards and take appropriate preventive measures. Our team carefully evaluates the terrain, weather conditions, and other factors to ensure safety.
Camp o Royale has a dedicated emergency response team trained in first aid and rescue operations. They are equipped to handle any unforeseen situation promptly and efficiently. Your safety is our priority, and we are prepared to respond to emergencies with expertise and swiftness.
Safety Briefings and Orientation:
Before participating in any adventure activity, all guests receive comprehensive safety briefings and orientation sessions. Our knowledgeable instructors guide you through the proper usage of equipment, safety procedures, and potential risks, ensuring that you are well-prepared and confident.
Our campsite is designed with security in mind. We have 24/7 surveillance cameras, well-lit pathways, and restricted access to ensure a secure environment for all our guests. You can relax and enjoy your stay without worrying about unauthorized entry or disturbances.
Hygiene and Sanitization:
In addition to safety, we also prioritize hygiene and sanitization. Especially in light of the ongoing pandemic, we have implemented strict sanitization protocols across the campsite. Common areas, accommodations, and adventure equipment are regularly disinfected to provide a clean and healthy environment.
At Camp O Royale, we go above and beyond to ensure that your stay is not only adventurous and enjoyable but also safe and secure. We strive to create unforgettable experiences while maintaining the highest standards of safety. Choose Camp o Royale for a worry-free and thrilling adventure in Dhanaulti.
Camp o Royale is strategically located in Dhanaulti, offering easy access to nearby attractions and sightseeing spots. Here are some of the must-visit places that you can explore during your stay: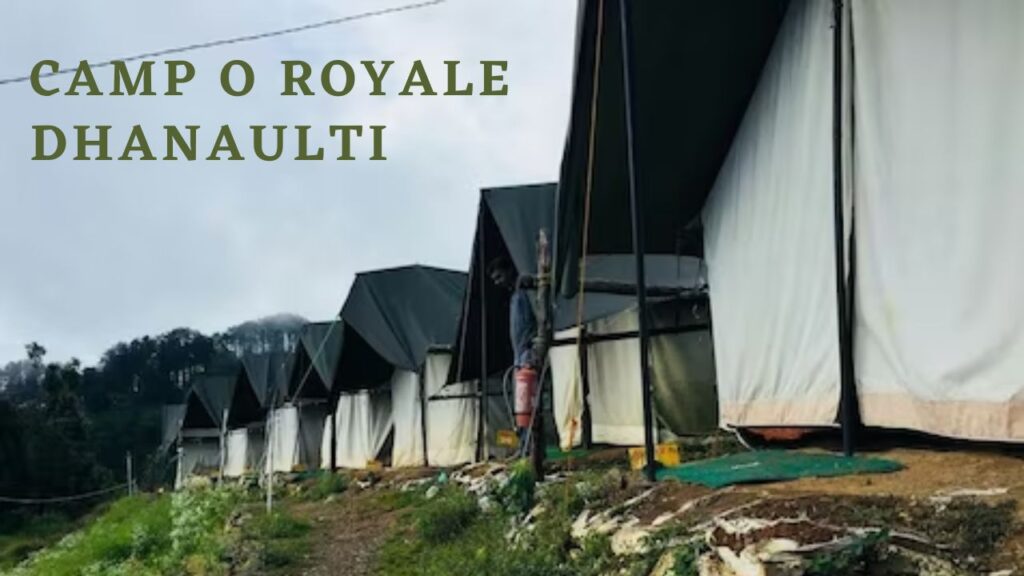 Surkanda Devi Temple: Situated at an altitude of 2,757 meters, the Surkanda Devi Temple is a revered religious site dedicated to Goddess Parvati. It offers panoramic views of the Himalayas and is known for its annual Ganga Dussehra festival.
Eco Park: Located just a short distance from Camp O Royale, Eco Park is a serene haven with lush greenery, well-manicured gardens, and beautiful flowers. It is an ideal spot for picnics, nature walks, and breathtaking mountain views.
Dashavatar Temple: This ancient temple is dedicated to Lord Vishnu and showcases intricately carved idols depicting the deity's ten avatars (incarnations). The temple's architectural beauty and spiritual ambiance make it a fascinating place to visit.
Potato Farm: Dhanaulti is famous for its sprawling potato farms; visiting one of these farms is a unique experience. Witness the process of potato cultivation, interact with the locals, and even indulge in some fresh potato-based delicacies.
Kanatal: Just a short drive from Camp O Royale, Kanatal is a charming hill station known for its apple orchards, dense forests, and captivating views. Enjoy leisurely walks, admire the natural beauty, and soak in the peaceful ambiance.
Tehri Dam: Situated on the Bhagirathi River, Tehri Dam is one of the tallest dams in the world and a marvel of engineering. The scenic beauty surrounding the dam and water sports like jet skiing and boating make it a popular tourist attraction.
Mussoorie: While staying at Camp O Royale, you can also plan a day trip to the nearby hill station of Mussoorie. Explore the famous Mall Road, visit attractions like Kempty Falls and Gun Hill, and enjoy the colonial charm of this hillside retreat.
These attractions blend natural beauty, cultural heritage, and spiritual significance. With Camp o Royale as your base, you can conveniently explore these nearby gems and make the most of your time in Dhanaulti. Whether you seek adventure, tranquillity, or cultural immersion, these attractions offer every traveller something.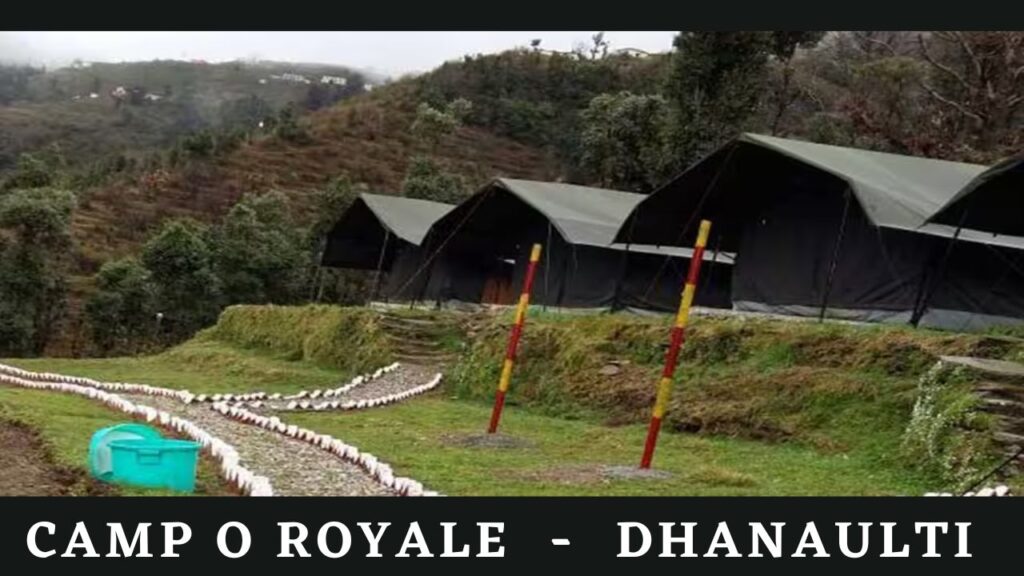 Conclusion
Choosing Camp o Royale for your stay in Dhanaulti guarantees an experience. Camp o Royale offers the perfect blend of relaxation and excitement, from comfortable accommodations to thrilling adventures, serene natural beauty, and delectable cuisine. Unwind in the lap of nature, challenge your limits, and create unforgettable memories.
As you plan your trip to Dhanaulti, make Camp o Royale your top choice. Book your stay now and embark on an unforgettable journey filled with adventure, serenity, and the best holiday in Dhanaulti. Get ready for a vacation that will leave you yearning to return to this enchanting hill station time and time again.