There are mighty Himalayan ranges and verdant pine and oak forests in Dhanaulti, a small pristine town near Mussoorie that offers an ideal vacation. so popular this scenic wonder has a lot to offer. Dhanaulti is growing in popularity these days, and its impeccable beauty is worth exploring. Visitors can choose from various activities in Dhanaulti, including leisure walks, nature trails, and adventure sports. Here are some of the best experiences of Dhanaulti one should take advantage of while vacationing here!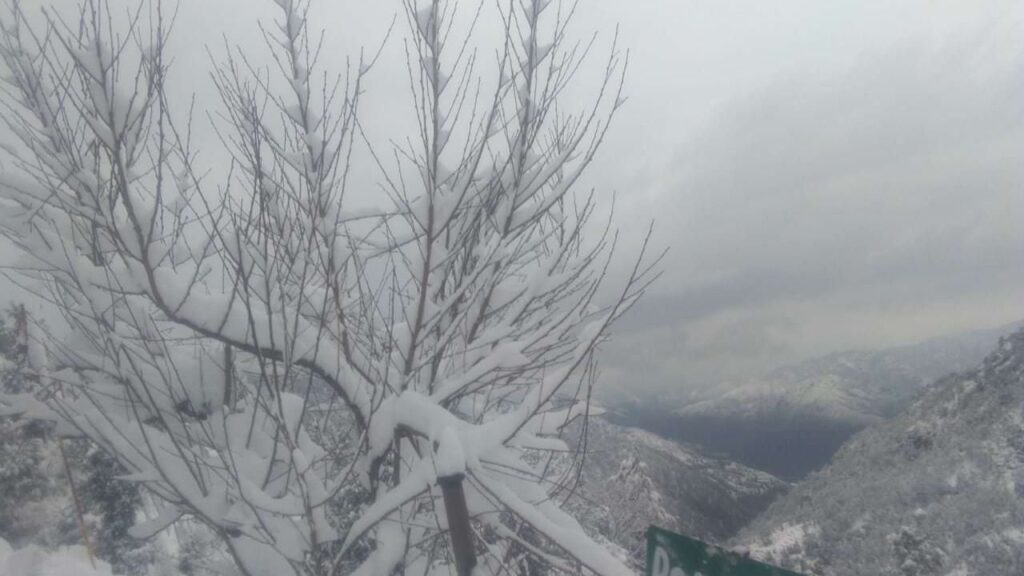 some of the best things to do in Dhanaulti
Camping – stay in Dhanaulti (Camp O Royale)
Rappelling – A Brave Heart Exercise
Rock Climbing – Show Off Your Strong Grip
Mountain Biking – Enjoying the Ride With Unlimited Enthusiasm
Boating In Company Garden – A Relaxing and Invigorating Experience
Trekking – Awaken Your Senses To The Aura Of The Hills
Valley Crossing – Get Ready For The Most Exciting Experience
Sky Walking – An Experience To Remember
Picnic At Eco Park – The Perfect Hideaway
Sunset From Potato Farms – Take In The Spectacular View
Zip Lining – Slide Amidst The Nature
Zip Swinging – Let Yourself Fall Into The Arms Of Mother Nature
Quad Biking – A thrilling experience that takes you all over the place
Paragliding – Take in the world from above
Skating – A fun sport to participate in
Village Tour – A tranquil atmosphere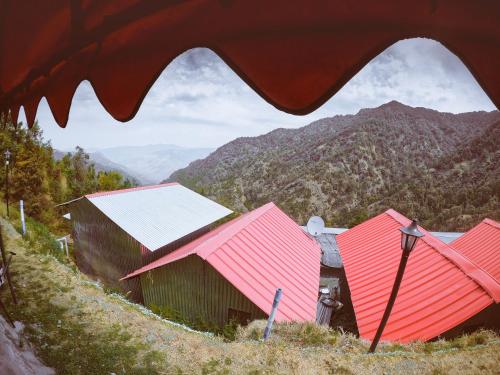 The Most Enthralling Activity – Valley Crossing
If you are fond of ultimate thrill and adventure, add valley crossing to the list of activities to do in Dhanaulti. You are tied to a rope while the pulley pulls it and swings along a valley of 80-110 feet deep. Despite being a daunting and thrilling experience, the stunning view of the valley and the forests makes it worthwhile.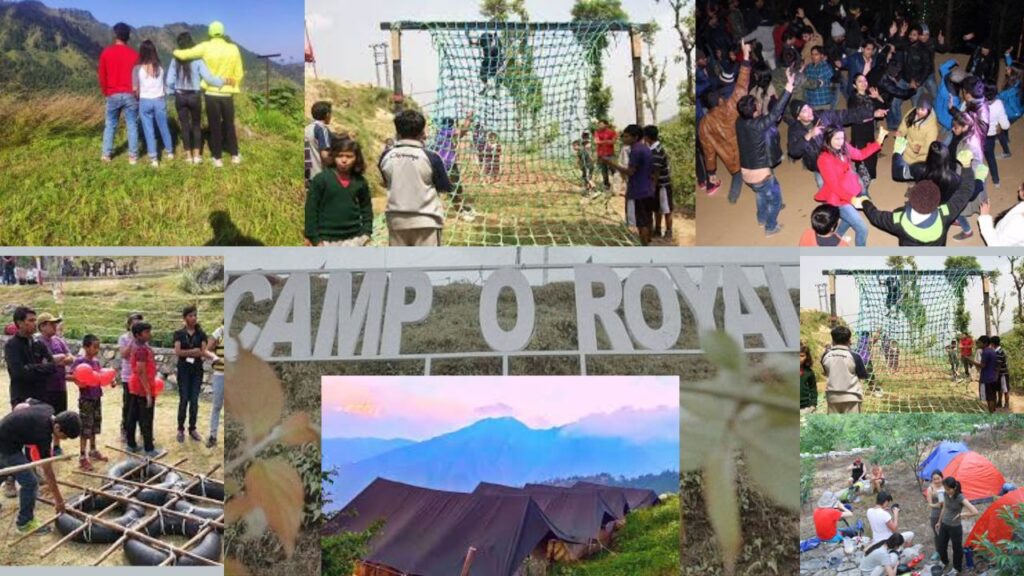 Sky Walking – A Lifetime Experience
At Dhanaulti, you can experience one of the longest-hanging bridges in India. The 300-foot-long sky bridge is suspended at 80 feet above the ground and allows everyone to balance and walk while enjoying the spectacular surroundings and experiencing a thrill like no other. One of the most adventurous things to do in Dhanaulti is this.
The Eco Park – A Relaxing Hideaway for a Picnic
If planning a day picnic in Dhanaulti, you can visit Eco Park. It features well-maintained gardens ideal for hanging out with family and kids. It consists of two twin parks, Amber and Dhara, referred to as Eco Park. These parks are surrounded by luxuriant cedar and deodar trees, making them ideal for strolls and picnics.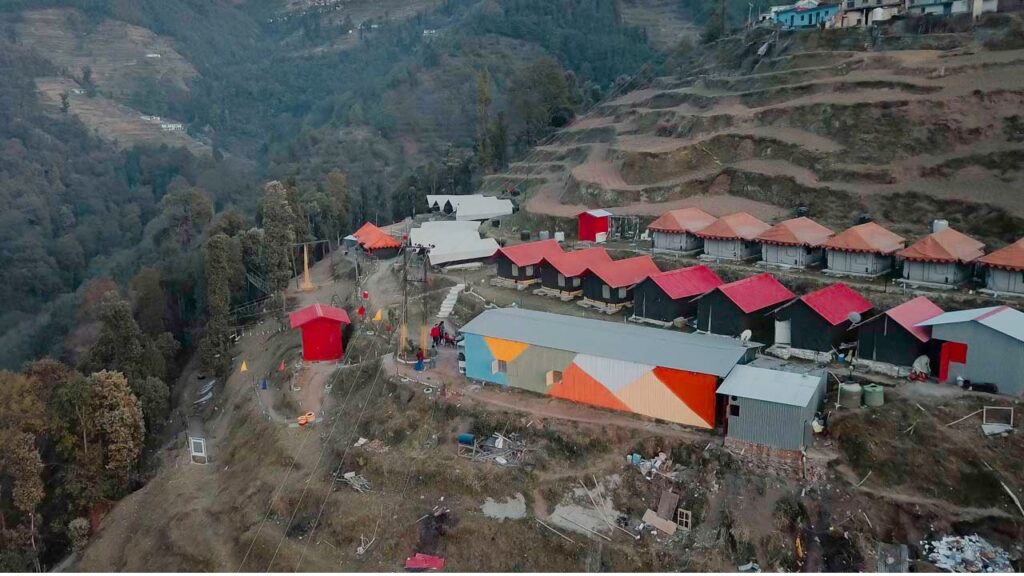 Camping – Get in touch with nature.
Camping is at the top of the list of adventurous things to do in Dhanaulti for kids. Camping Dhanaulti resorts and agencies provide adventure camping facilities in Dhanaulti at unbelievably affordable prices to all. These camping resorts, such as Camp Awara, and Camp o Royale make camping a thrilling and enjoyable experience with luxury tents and modern amenities.
Rappelling – Test Your Bravery
Rappelling in Dhanaulti will give you an adrenaline rush like no other. The activity requires courage and endurance but gives you double joy and electrifying experiences in return. Slide down the valley with a sweeping motion while tied to a rope. Take advantage of this activity on your weekend trip to Dhanaulti.
Rock Climbing – Show off Your Strong Grip
On the Dhanaulti-Mussoorie road is a popular rock-climbing hotspot called Buranskhanda. It is an enthralling activity that requires considerable enthusiasm and courage to climb a hill of about 85 feet in 30 minutes. This soul-stirring activity in Dhanaulti is a must-try if you have a brave heart and love adventure.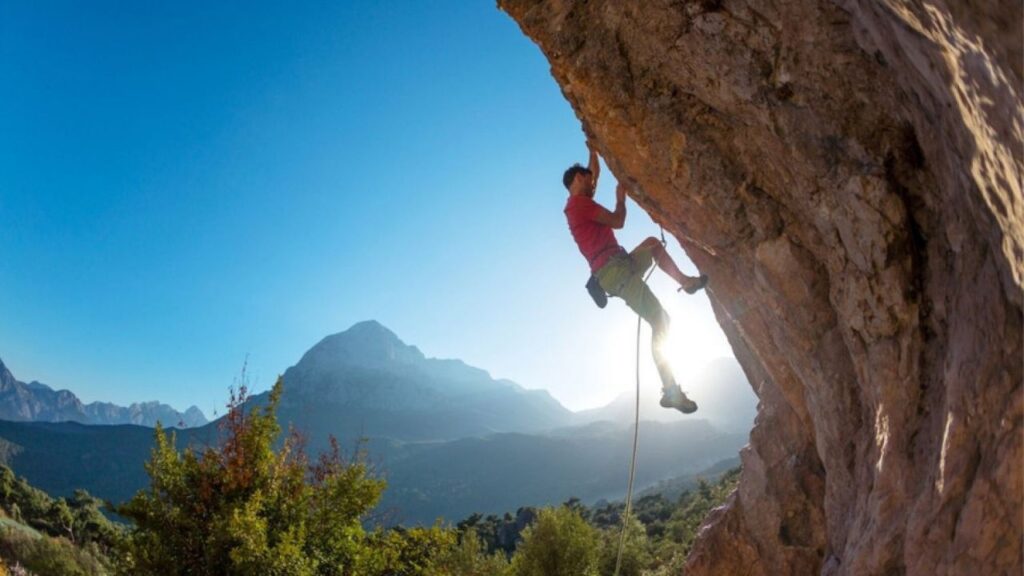 The best way to drive with unlimited enthusiasm is by mountain biking.
A big shout out to the bikers! The winding roads of Dhanaulti and neighboring areas are the perfect set-up for enthralling mountain biking trips and adventures. You should pack your backpack, wear your helmet, and drive through the meandering hills and forest trails in Dhanaulti. You should drive safely and cautiously before anything else. Taking a ride through the surreal beauty of the surroundings is the best thing to do in Dhanaulti.
Taking a boat ride in the company garden – a relaxing and rejuvenating experience
The time has come for a relaxing and peaceful activity after much excitement and adventure in Dhanaulti. Boating in the artificial lake of the Company Garden is one of the most enjoyable things in Dhanaulti. Known for its lush green deodar and cedar trees, this garden is one of the finest places to visit in Dhanaulti, and its artificial water body enhances its charm. Experience the serenity and pristine beauty of your surroundings as you sail along the lake.
Spectacular Sunset Over Potato Farms – Enjoy This Beautiful Scenery
Last but certainly not least, activity in Dhanaulti is watching the sunset from the sprawling Potato Farms. The extensive potato orchard is maintained by the government and private farmers and offers the most picturesque sunset view in Dhanaulti due to its terraced landscape.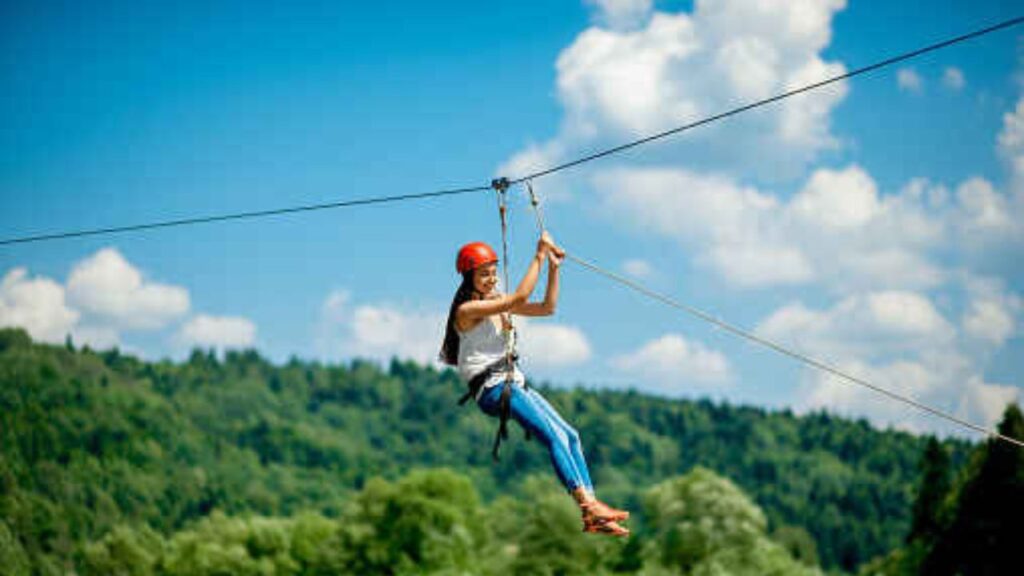 Zip Lining – Slide through nature
It is hard to go wrong with the zip lining in Dhanaulti. It is one of the most popular activities for thrill seekers who want to witness the stunning beauty of natural wonders while rushing through them. Dhanaulti is one of the premium adventure sports that one can try out if one wants to get their adrenaline rushing. Zip lining is one of the premium adventure sports one can try.
Zip Swinging – Drop into Mother Earth's arms
One of the most fun-filled activities to do in Dhanaulti is Zip Swinging, a more improvised version of zip lining. Zip Swing combines zip lining with giant swings, doubling the thrill. It's a simple glide through the rope. Instead of crossing the whole rope, the participant stops in the middle and swings 80 feet above the ground. It keeps the heart pumping throughout.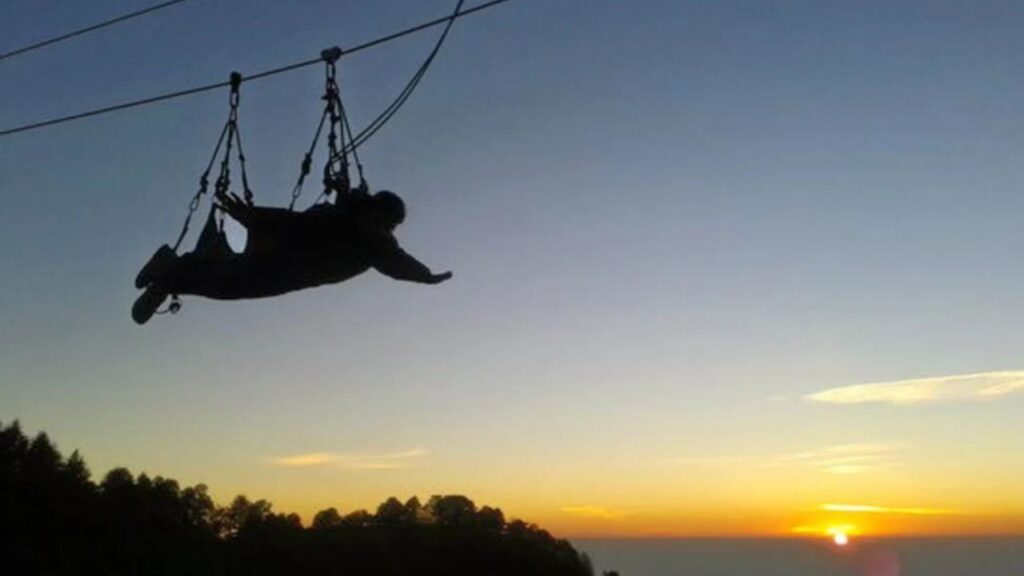 Best time of year to visit Dhanaulti
Dhanaulti has a pleasant climate throughout the year, like all other hill stations. It is best to visit Dhanaulti between June and September, December & January when sightseeing tours and relaxation are most enjoyable. During the winter, the temperature can be harsh, while during the monsoon, the slopes can be dangerous and heavy rain can obstruct outdoor activities.
Take a short break from your routine at Dhanaulti, a beautiful getaway. Plan a trip with your friends and family to enjoy the above-awesome things to do in Dhanaulti