Are you tired of the same old routine, day in and day out? Are you craving a much-needed escape to the embrace of nature? Well, your search ends here! Welcome to Camp O Royale, where you'll find the best camps in Dhanaulti. Located in the tranquil and picturesque town of Dhanaulti amidst the awe-inspiring beauty of the Himalayas, Camp O Royale offers an extraordinary camping experience like no other. Immerse yourself in a world of adventure, relaxation, and rejuvenation. With an array of exciting activities, luxurious cottages, and a dedication to ensuring your utmost satisfaction, we take pride in being the ultimate choice for camps in Dhanaulti. Get ready to embark on a journey that will awaken your adventurous spirit and create memories that will last a lifetime.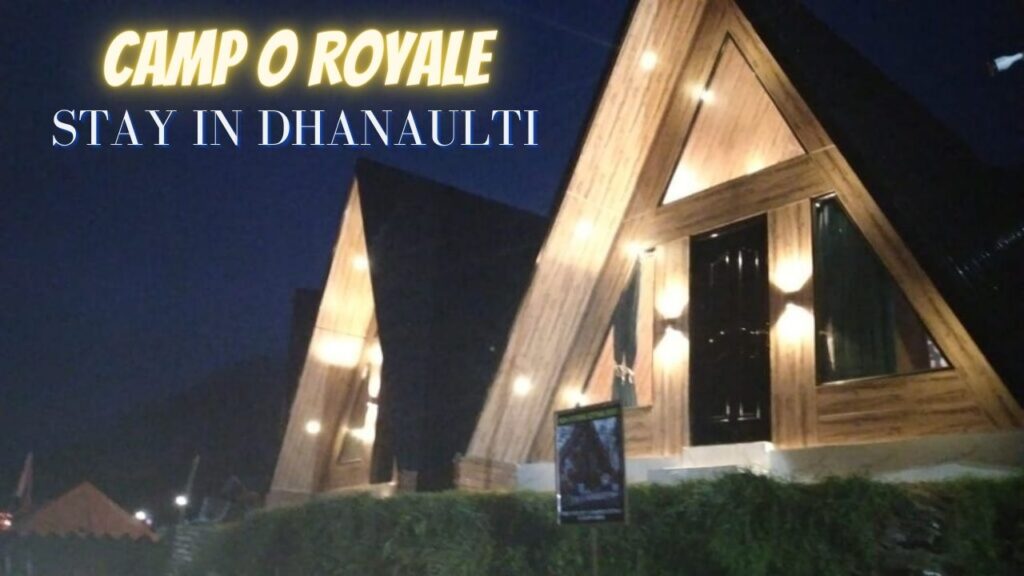 What is the ideal duration of Stay in Dhanaulti?
The ideal duration of stay in Dhanaulti depends on various factors, such as your preferences, the activities you want to engage in, and the attractions you wish to explore. However, a recommended duration for a fulfilling experience in Dhanaulti would be around 2 to 3 days.
During this time, you can immerse yourself in the town's tranquillity, indulge in thrilling adventure sports, and explore nearby attractions. Spend your days hiking along picturesque trails, visiting popular spots like Surkanda Devi Temple or Eco Park, and enjoying breathtaking views of the Himalayan landscape.
In the evenings, unwind at Camp O Royale, the best camp in Dhanaulti, and relax in the luxurious cottages while soaking in the natural beauty surrounding you. This duration allows you to balance adventure and relaxation, ensuring a memorable and rejuvenating experience in the lap of nature.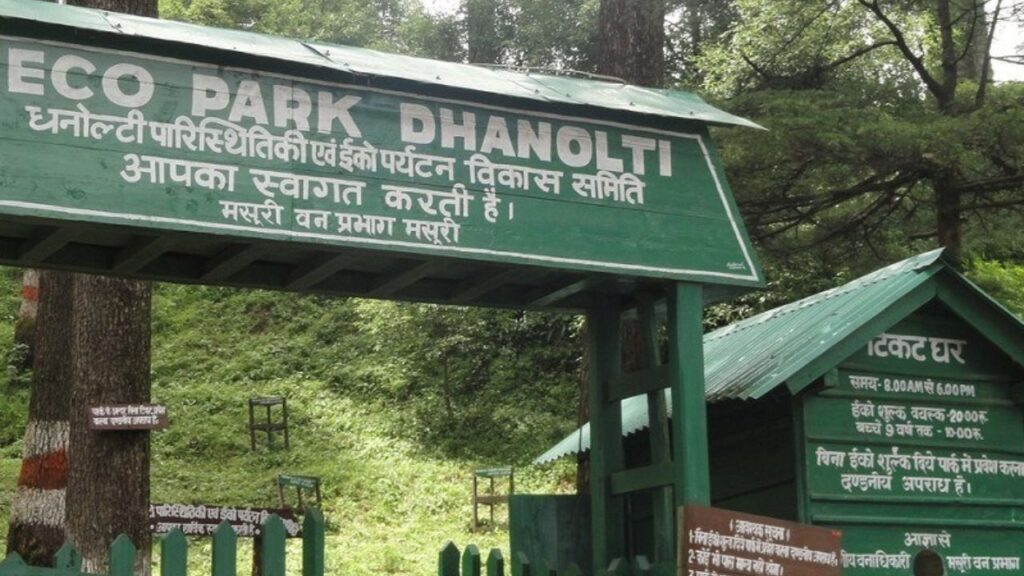 What is the weather like in Dhanaulti throughout the year?
Dhanaulti experiences a pleasant climate throughout the year, making it a favourable destination for visitors. The town is situated at an altitude of 7,500 feet, which contributes to its moderate weather conditions.
Summer (April to June): The summer season in Dhanaulti is mild and pleasant, with temperatures ranging from 20°C to 35°C. It serves as a respite from the scorching heat of the plains, making it an ideal time for outdoor activities and sightseeing.
Monsoon (July to September): Dhanaulti receives moderate rainfall during the monsoon season. The weather remains cool and refreshing, with occasional showers. It is a great time to enjoy the lush greenery and experience the beauty of nature.
Winter (October to February): Dhanaulti transforms into a winter wonderland during the winter months. The temperature drops significantly, ranging from 1°C to 15°C. It is the perfect time for snow lovers, as Dhanaulti receives occasional snowfall, creating a picturesque landscape.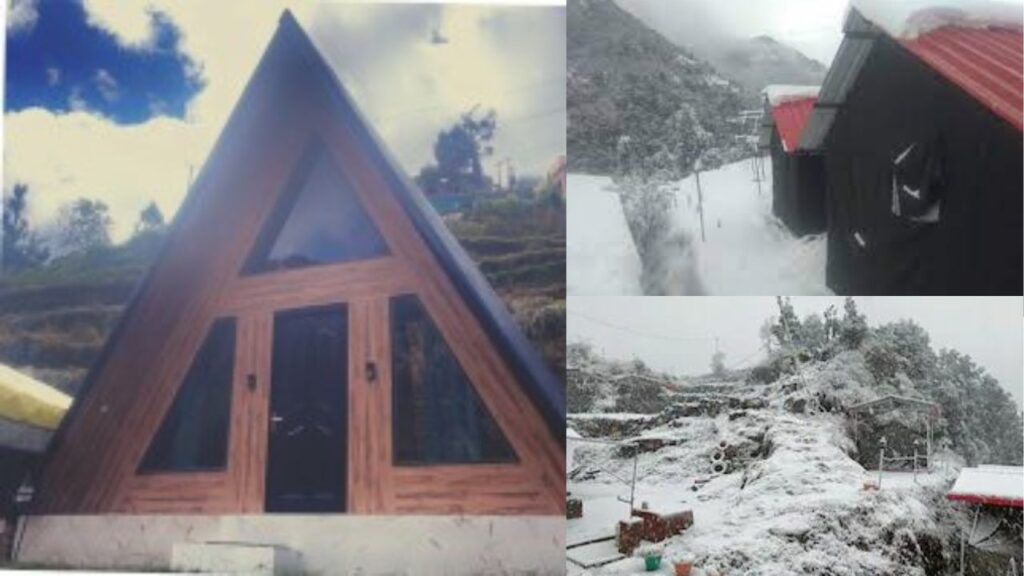 What are the nearby adventure destinations from Dhanaulti?
Dhanaulti, nestled in the Garhwal region of Uttarakhand, offers proximity to several nearby adventure destinations worth exploring. Here are some notable ones:
Mussoorie: Located just 25 kilometres away, Mussoorie is a popular hill station known for its stunning views, waterfalls, and adventure activities. Enjoy trekking to famous spots like Lal Tibba and Gun Hill, or indulge in paragliding and cable car rides.
Kanatal: Situated around 15 kilometres from Dhanaulti, Kanatal is a serene hill station known for its scenic beauty and adventure opportunities. Engage in camping, nature walks, and rappelling, and explore the enchanting Kodia Jungle.
Tehri: Located approximately 55 kilometres away, Tehri is famous for its majestic Tehri Dam and the pristine Tehri Lake. Thrill-seekers can participate in water sports like jet skiing, kayaking, and boating or trekking and camping in the surrounding hills.
Rishikesh: Situated about 75 kilometres from Dhanaulti, Rishikesh is renowned as the "Yoga Capital of the World" and offers a range of adventure activities. Experience white-water rafting in the Ganges, go bungee jumping or try your hand at rock climbing and hiking.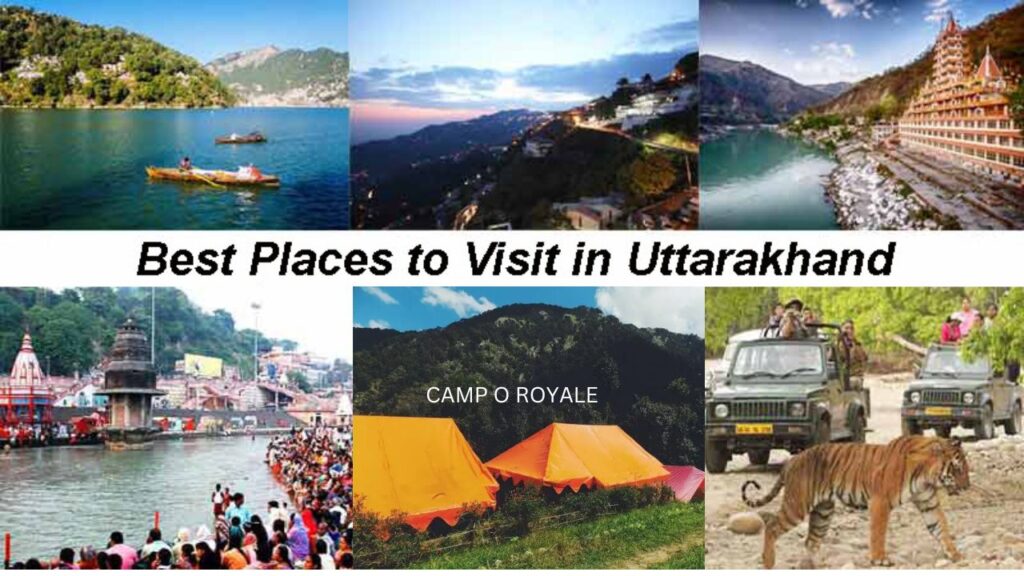 What makes Camp O Royale stand out in Dhanaulti
Camp O Royale stands out as the premier camping destination in Dhanaulti due to its exceptional offerings and unique features. Here are the key factors that set Camp O Royale apart from others:
Location: Nestled amidst the picturesque beauty of Dhanaulti, Camp O Royale enjoys a breathtaking setting with panoramic views of the Himalayas. The serene environment creates an ideal escape from the hustle and bustle of city life.
Luxury Cottages: Camp O Royale offers luxurious cottages equipped with modern amenities, providing guests with comfort and relaxation. The cottages boast cosy interiors and panoramic views, allowing guests to immerse themselves in nature while enjoying the comforts of well-appointed accommodations.
Diverse Activities: Camp O Royale offers a wide range of thrilling activities that cater to individuals of all ages and preferences. From adventurous walks on rope bridges to commando nets and suspension bridges, there is something to exhilarate everyone.
Expert Hospitality: The dedicated team at Camp O Royale goes above and beyond to ensure exceptional hospitality. Guests can expect personalized attention, prompt service, and a warm and welcoming atmosphere throughout their stay.
Culinary Delights: Camp O Royale takes pride in its culinary offerings. The skilled chefs prepare delectable meals using locally sourced ingredients, tantalizing guests' taste buds with a blend of flavours and a touch of regional cuisine.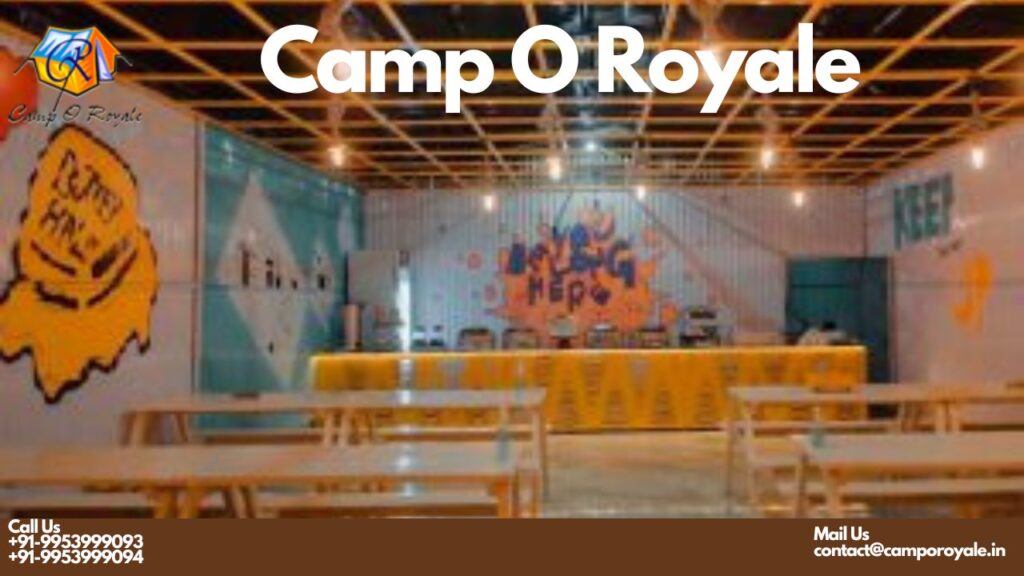 What types of accommodation options are available at Camp O Royale?
At Camp O Royale, we offer a range of accommodation options to cater to the diverse preferences of our guests. Each option is designed to provide comfort, luxury, and an immersive camping experience. Here are the types of accommodation available:
Swiss Camps: Our Swiss camps are spacious and well-furnished, providing a cosy and comfortable setting amidst nature. Equipped with comfortable beds, warm blankets, and basic amenities, these camps offer an authentic camping experience without compromising comfort.
Luxury Cottages: Our luxury cottages are the perfect choice for those seeking a touch of luxury. These well-appointed cottages feature elegant interiors, modern amenities, and private balconies offering panoramic views of the picturesque surroundings. Enjoy the tranquillity of nature while indulging in the comforts of a luxurious stay.
Tented Accommodation: We also offer tented accommodation for a more rustic experience. These tents provide a unique camping experience, allowing you to feel closer to nature while enjoying essential amenities for a comfortable stay.
At Camp O Royale, we strive to provide accommodation options catering to different preferences, ensuring your stay is enjoyable and memorable.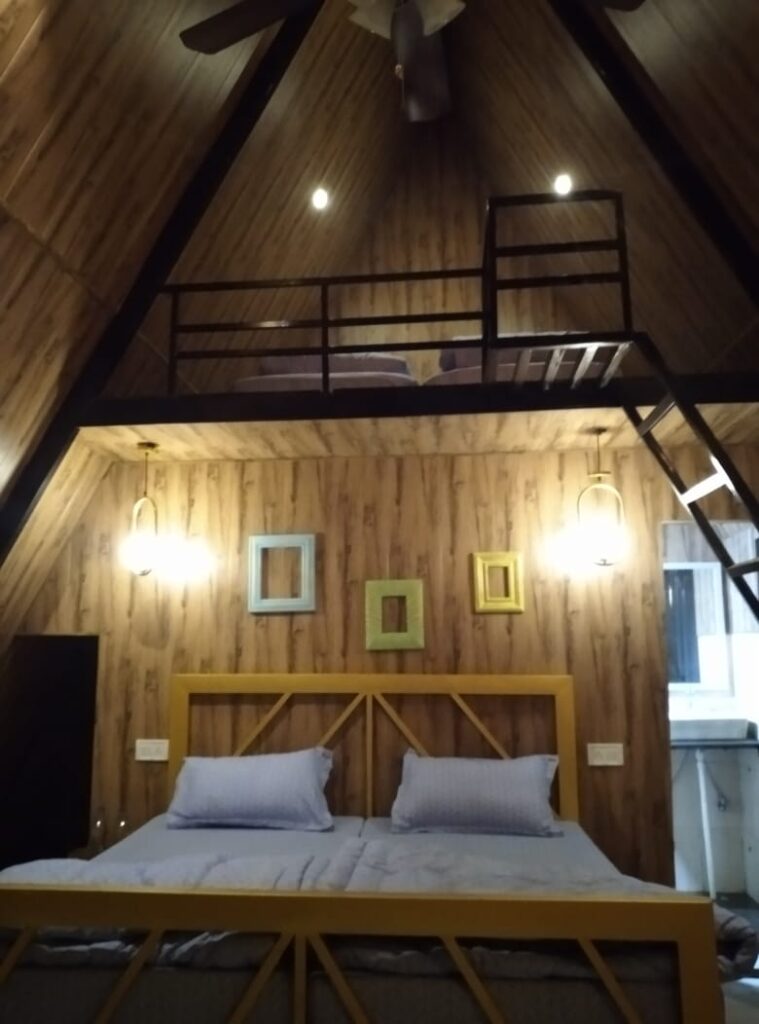 What are the Activities offered at Camp O Royale?
Camp O Royale offers a diverse range of activities that cater to adventure enthusiasts of all ages. Here are some of the exciting activities available at our camp:
Mowgli Walk: Experience the thrill of walking over a rope bridge suspended high above the ground. Test your balance and agility as you navigate this adventurous walk that amazes you.
Burma Bridge: Cross the Burma Bridge, a suspension bridge made of thick ropes. This thrilling activity challenges your fear of heights as you carefully cross, holding on to the ropes for support.
Commando Net: Channel your inner commando and conquer the commando net. This activity involves navigating a complex web of ropes and obstacles, testing your physical strength and mental agility.
Suspension Bridge: Take an adventurous walk over a swaying suspension bridge. With breathtaking views and a sense of goosebumps-inducing excitement, this activity promises an unforgettable experience.
At Camp O Royale, we believe in providing a wide range of activities to suit every individual's preference for adventure and excitement. From Mowgli Walk to Burma Bridge, Commando Net, and Suspension Bridge, our activities ensure an exhilarating and memorable camping experience in Dhanaulti.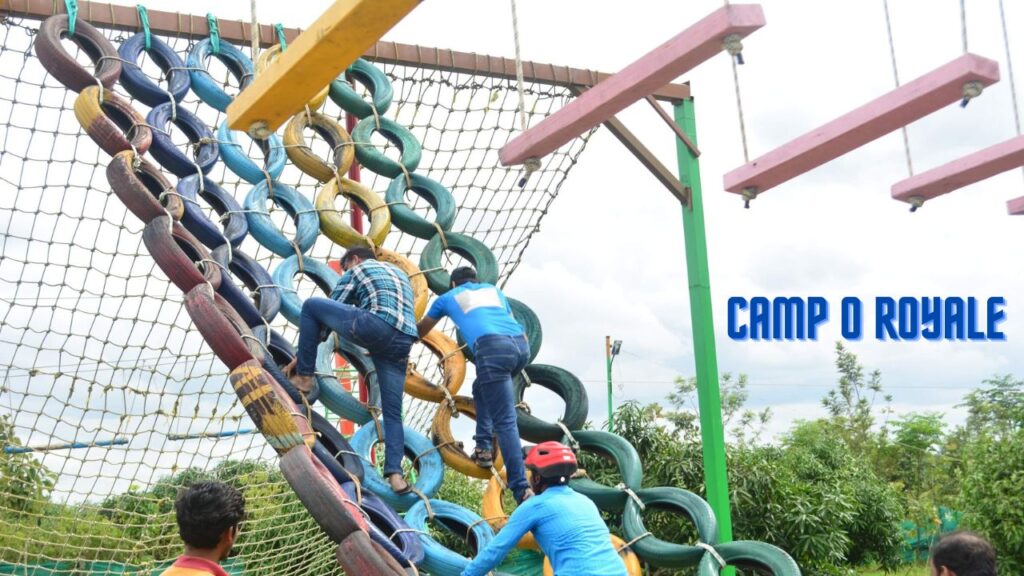 What are the packages offered at Camp O Royale?
Camp O Royale offers a variety of packages tailored to cater to different groups and their specific needs. Here are the packages available:
Corporate Package: Designed for corporate teams, this package provides a unique opportunity for team building and fostering camaraderie. Engage in activities that promote teamwork, leadership, and communication skills while enjoying the beauty of nature.
School/College Package: This package offers an adventure-based learning program for students. It combines education and fun, allowing students to acquire new skills, enhance teamwork, and develop problem-solving abilities in a natural setting.
Family Package: Ideal for families seeking a memorable camping experience, this package creates an opportunity for bonding amidst nature. Enjoy campfire nights, starlit skies, and quality time with loved ones in an environment that fosters togetherness.
Each package at Camp O Royale is designed to provide a unique and fulfilling experience. Whether corporate team building, educational enrichment, or family bonding, our packages ensure a memorable stay in Dhanaulti.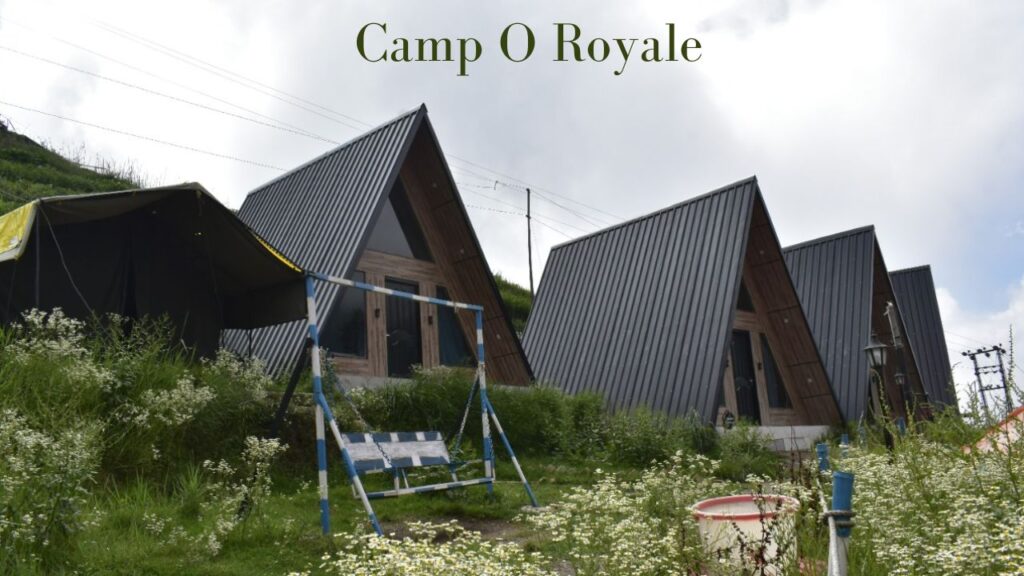 What are the nearby offbeat adventures from Camp O Royale?
Certainly! Here are a few offbeat adventure destinations near Camp O Royale in Dhanaulti:
Surkanda Devi Temple: Situated at 10,000 feet, the Surkanda Devi Temple offers a challenging yet rewarding trek. Embark on this lesser-known trek to the temple and be rewarded with panoramic views of the Garhwal Himalayas.
Tehri Dam Reservoir: Explore the vast expanse of the Tehri Dam Reservoir, a manufactured marvel surrounded by serene landscapes. Engage in water sports like kayaking or enjoy a peaceful boat ride while soaking in the tranquillity of the surroundings.
Deoban: Located in the Chakrata region, Deoban is a hidden gem known for its dense forests and breathtaking views. Embark on a trek through the pristine forest trails, and at the summit, witness mesmerizing vistas of the Himalayas.
Tiger Falls: Discover the majestic Tiger Falls, one of the highest waterfalls in Uttarakhand. Located near Chakrata, this hidden gem is nestled amidst lush greenery and offers a serene atmosphere for relaxation and nature exploration.
Kodia Jungle: Explore the untouched wilderness of Kodia Jungle, a dense forest area near Kanatal. Take a guided nature walk or a thrilling jeep safari to spot wildlife, including deer, leopards, and various bird species.
These lesser-known adventure destinations near Camp O Royale provide opportunities to immerse yourself in nature's beauty and indulge in unique experiences away from the usual tourist trail.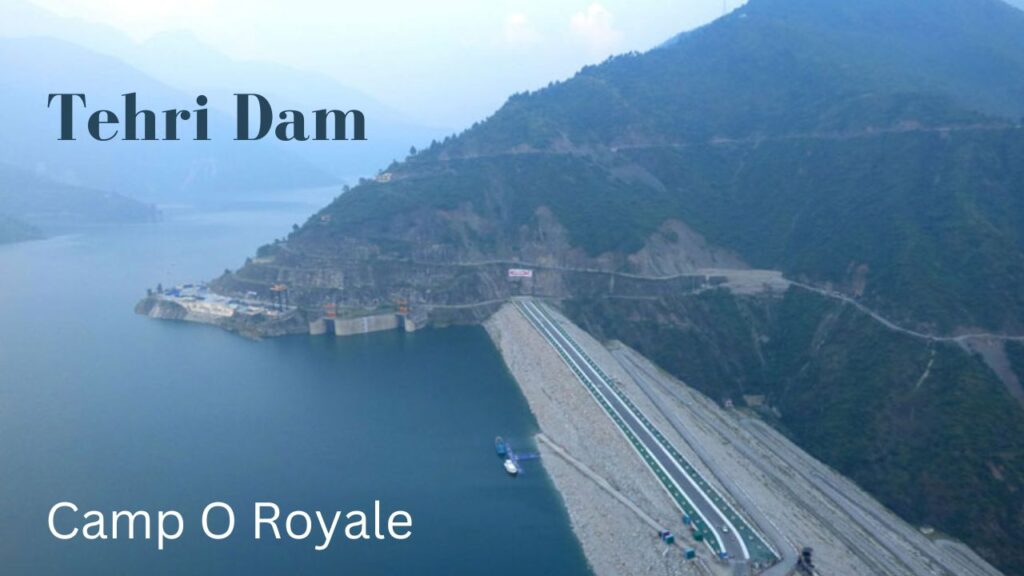 Are there any local festivals or cultural events in Dhanaulti?
Dhanaulti, a serene town in Uttarakhand, has its share of local festivals and cultural events that glimpse the region's rich traditions and heritage. While Dhanaulti is not known for grand-scale festivals, a few local celebrations take place throughout the year.
Jhandi Mela: Held annually in Dhanaulti, Jhandi Mela is a significant local fair that showcases the traditional customs and culture of the region. It features vibrant folk performances, local cuisines, handicrafts, and various games and competitions.
Basant Panchami: Celebrated during the spring season, Basant Panchami marks the arrival of the spring season. It is a festival dedicated to the worship of Goddess Saraswati, the deity of knowledge, music, and art. People dress in yellow, and educational institutions often organize special events and ceremonies.
Phool Dei: Phool Dei is a unique festival celebrated in the Kumaon region, including nearby areas of Dhanaulti. It marks the arrival of spring and is a way of seeking blessings for prosperity and a good harvest. During Phool Dei, young girls go door-to-door, singing traditional songs and offering flowers and sweets to households.
While these local festivals might not be widely known, they provide an opportunity to witness the cultural heritage and traditions of Dhanaulti and its surrounding regions. Participating in or observing these festivals can offer visitors a unique and immersive experience.
Are there any local markets or shopping areas in Dhanaulti?
Yes, Dhanaulti offers a few delightful local markets and shopping areas where you can satisfy your shopping cravings. While the town is primarily known for its natural beauty, there are still options for those who love to explore unique items and bring back memorable souvenirs.
Dhanaulti Market: Right in the heart of Dhanaulti, you'll find a charming local market. Here, you can wander through shops that showcase local handicrafts, cosy woollens, and captivating souvenirs. This market has a range of authentic treasures, from intricately woven shawls to beautifully carved wooden artefacts. Don't miss the chance to taste the locally produced honey and jams, too!
Mussoorie Mall Road: Just a short distance from Dhanaulti lies Mussoorie, and its famous Mall Road is a shopaholic's paradise. Stroll along this bustling street lined with shops and stalls offering diverse clothing, accessories, handicrafts, and mouthwatering local snacks. It's a lively and vibrant spot for some retail therapy.
Chamba Market: For an even more comprehensive selection of Garhwali handicrafts, woollens, and unique local artefacts, head to the market in nearby Chamba. Here, you'll have the chance to immerse yourself in the region's rich cultural heritage and find something extraordinary to take back home.
While Dhanaulti's shopping scene may not rival larger cities, these local markets are filled with hidden gems waiting to be discovered. So, set aside some time to explore, support local artisans, and bring back cherished mementoes of your time in this enchanting town.
Conclusion
If you seek an authentic camping experience in Dhanaulti that offers adventure, luxury, and a break from the ordinary, look no further than Camp O Royale. With our unmatched location, thrilling activities, and impeccable hospitality, we ensure that your holiday in Dhanaulti is nothing short of extraordinary. Choose us as your preferred camp in Dhanaulti and embark on a journey that will create memories to cherish forever.
FAQs
Is Camp O Royale suitable for children?
Absolutely! Camp O Royale offers a school/college package specifically designed for children. Our adventure-based learning program helps children acquire new skills while having fun in a safe and supervised environment.
What is the best time to visit Dhanaulti?
The best time to visit Dhanaulti is during the summer (April to June) when the weather is pleasant and ideal for outdoor activities. However, Dhanaulti's beauty can be enjoyed throughout the year, each season offering a unique charm.
Are the activities at Camp O Royale safe?
Safety is our utmost priority at Camp O Royale. All our activities are conducted under the guidance of trained professionals and adhere to strict safety standards. We ensure all necessary precautions to provide our guests with a safe and enjoyable experience.
Are the meals at Camp O Royale suitable for special dietary requirements?
Yes, we cater to special dietary requirements. Please inform us about any specific dietary needs, and our skilled chefs will prepare meals accordingly.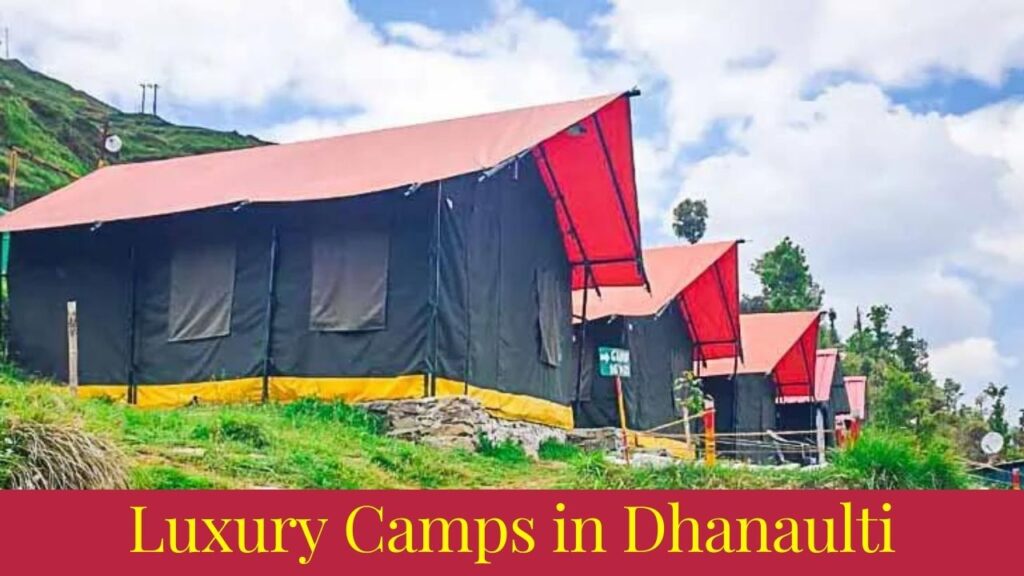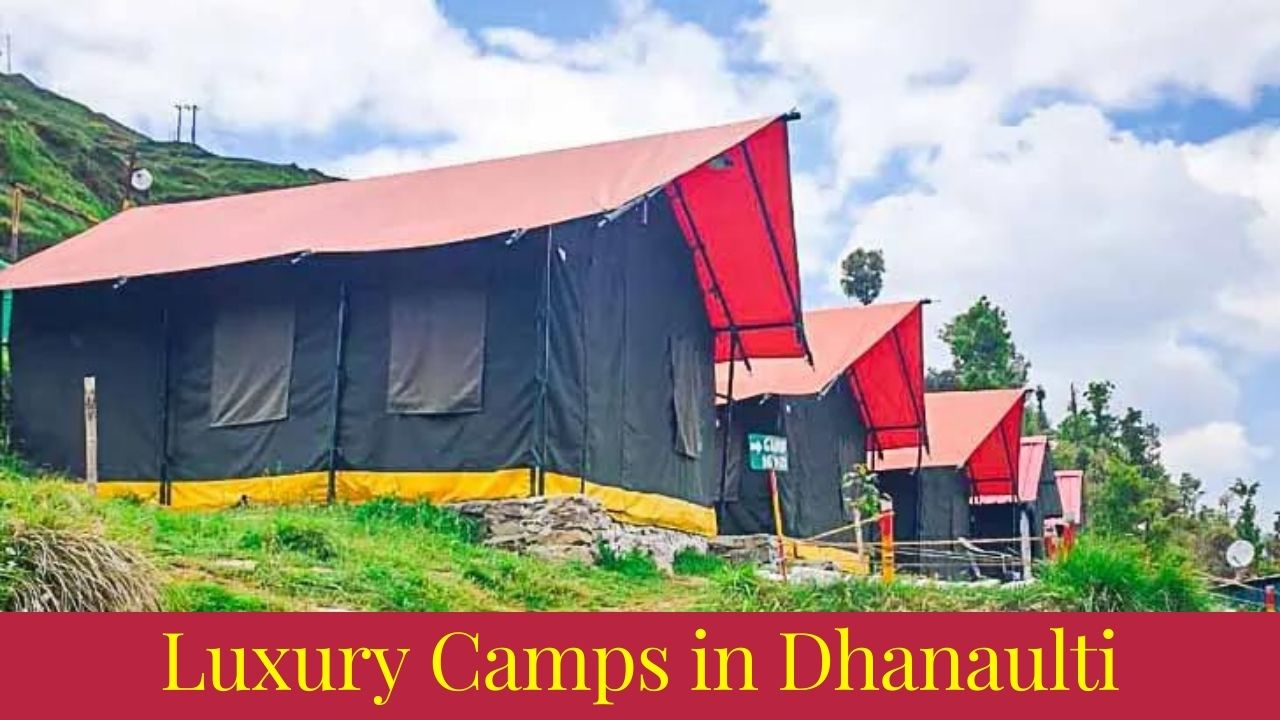 Can I book a customized package at Camp O Royale?
Certainly! We understand that every group has unique preferences and requirements. You can contact our team and discuss your specific needs to create a customized package that suits your preferences.