Overview
Nestled amidst the serene landscapes of Dhanaulti, Camp O Royale stands as a testament to the beauty of nature and the thrill of outdoor adventures. As one of the premier camps in Dhanaulti, it offers an unparalleled experience for those looking to escape the hustle and bustle of city life and immerse themselves in the tranquility of the mountains.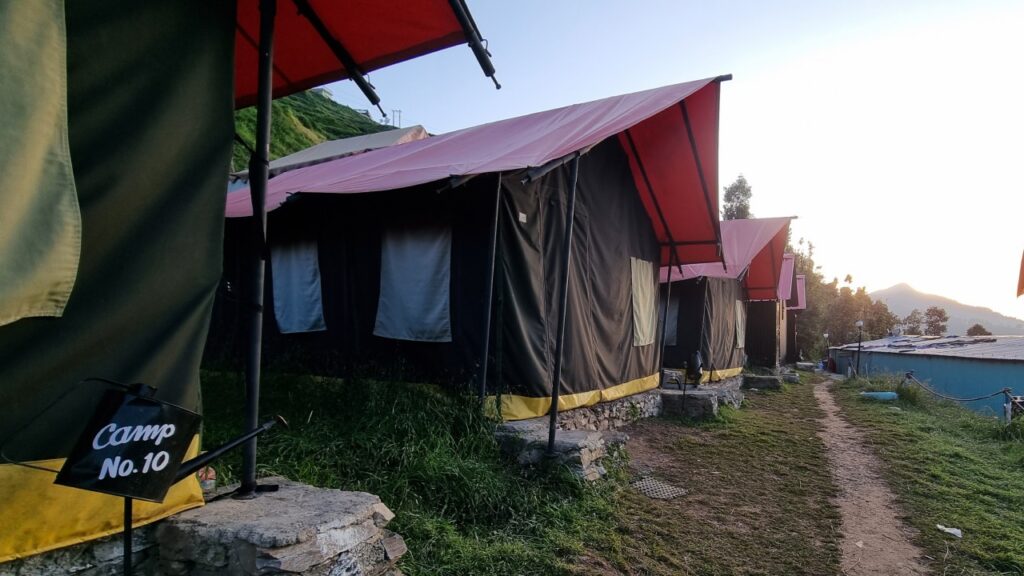 Discover the Magic of Dhanaulti with Camp O Royale
Dhanaulti, a picturesque hill station in the Garhwal range of the Himalayas, is known for its breathtaking views, lush greenery, and cool climate. And what better way to experience its charm than by camping under the stars? Camp O Royale, one of the most sought-after camps in Dhanaulti, provides you with just that opportunity.
Why Choose Camp O Royale?
Location, Location, Location!
Situated at a vantage point, Camp O Royale offers panoramic views of the surrounding mountains and valleys. The camp's location ensures that you're always surrounded by nature's beauty, making it one of the most scenic camps in Dhanaulti.
Adventure Galore
From trekking and mountain biking to bonfire nights and stargazing, Camp O Royale has a plethora of activities to keep the adrenaline junkie in you satisfied.
Eco-Friendly Stays
Being one of the leading camps, Camp O Royale takes its responsibility towards the environment seriously. The camp promotes sustainable tourism practices, ensuring that your stay doesn't harm the pristine surroundings.
Local Cuisine
Experience the flavours of Uttarakhand as Camp O Royale serves authentic Garhwali dishes, prepared using fresh, locally-sourced ingredients.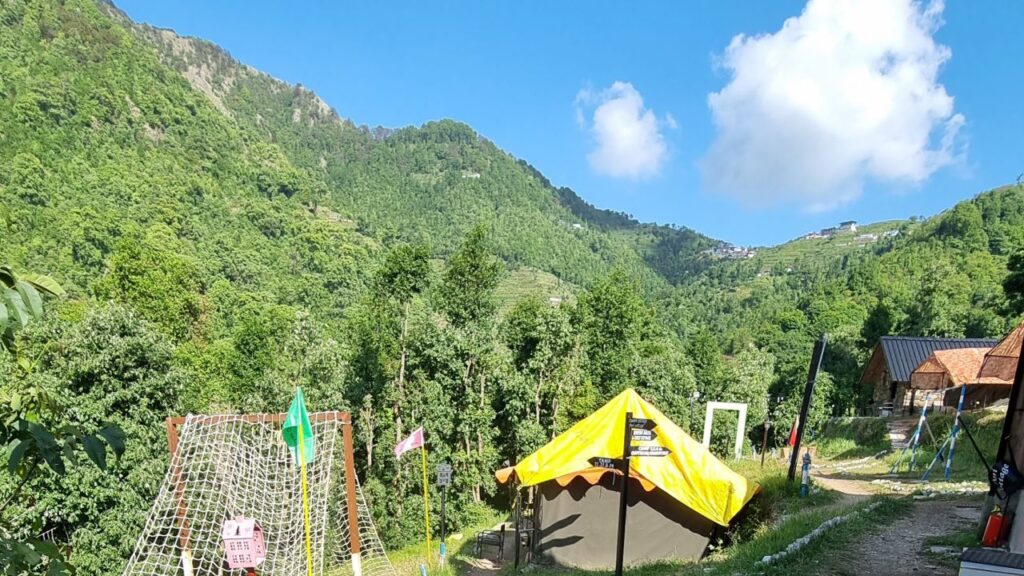 The Unique Features of Camp O Royale
1. Customised Camping Experiences
Every traveller is unique, and so are their expectations. Recognizing this, Camp O Royale offers customised camping packages. Whether you're a solo traveller seeking solitude, a couple on a romantic getaway, or a family on a vacation, there's a package tailored just for you. This flexibility ensures that every guest at Camp O Royale, one of the standout camp in Dhanaulti, has a memorable experience tailored to their preferences.
2. The Wellness Retreat
In today's fast-paced world, taking a break to rejuvenate is essential. Camp O Royale understands this and offers a wellness retreat for its guests. Combining the ancient wisdom of yoga with the therapeutic powers of nature, this retreat is designed to heal both the body and the soul. Morning yoga sessions amidst the mountains, guided meditation under the stars, and nature walks are just a few of the activities that make this retreat a transformative experience.
3. Cultural Immersion
Dhanaulti, apart from its natural beauty, is also rich in culture and traditions. Camp O Royale, being deeply rooted in the local community, offers its guests a chance to immerse themselves in the Garhwali culture. From folk dance performances to craft workshops, guests get a firsthand experience of the region's rich heritage. This cultural immersion sets Camp O Royale apart from other camp in Dhanaulti.
4. The Adventure Hub
For those who equate camping with adventure, Camp O Royale won't disappoint. As one of the leading camp in Dhanaulti, it boasts an adventure hub that offers a range of activities. Zip-lining across valleys, rock climbing, and rappelling are just a few of the thrilling experiences awaiting guests. Safety is paramount, and all activities are supervised by trained professionals, ensuring that even the most daring adventures are safe.
5. Eco-Initiatives
In today's age of environmental consciousness, Camp O Royale takes a step ahead. Apart from promoting sustainable tourism, the camp is also involved in various eco-initiatives. Tree plantation drives, clean-up treks, and wildlife conservation projects are regularly organized. Guests are encouraged to participate, making their stay at Camp O Royale not just a vacation but also a contribution to the environment.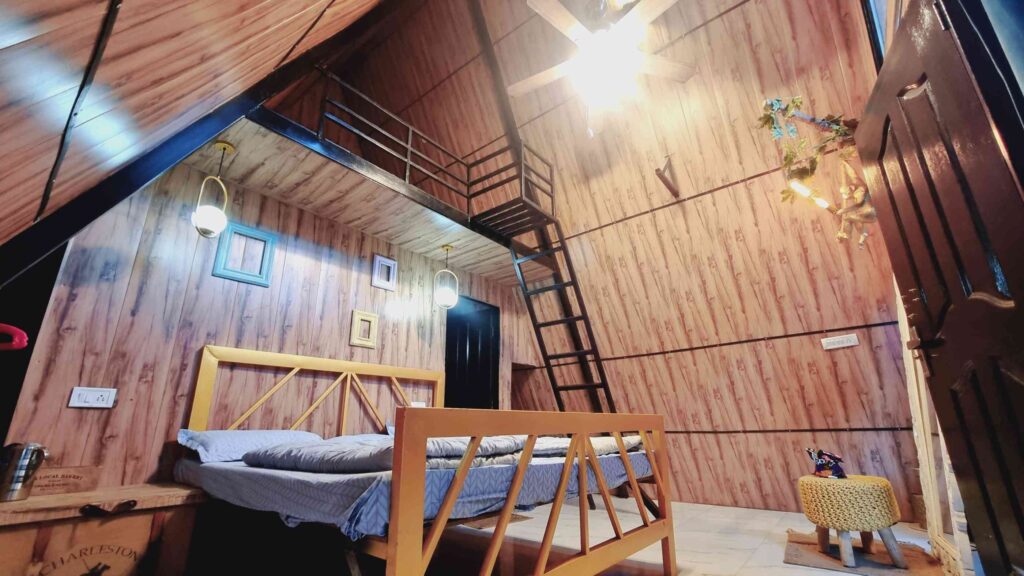 The Essence of Camp O Royale
In the heart of Dhanaulti, Camp O Royale stands as a beacon for those seeking an authentic camping experience. It's not just about staying in tents or enjoying the outdoors; it's about immersing oneself in the essence of the place. The camp's commitment to offering a holistic experience, from adventure to wellness, from cultural immersion to eco-consciousness, makes it a destination in itself.
The team behind Camp O Royale is passionate about what they do. Their love for Dhanaulti, its culture, and its environment shines through in every aspect of the camp. This passion ensures that every guest, whether staying for a night or a week, leaves with cherished memories and a longing to return.
In a world where vacations are often about ticking off tourist spots or chasing Instagram-worthy shots, Camp O Royale offers something different. It offers an experience, a chance to connect with oneself, with nature, and with a community. It's a reminder of the simple joys of life – the joy of waking up to a mountain sunrise, the thrill of a new adventure, the warmth of a bonfire on a chilly night, and the magic of a starlit sky.
So, if you're looking to rediscover these joys, to take a break from the mundane, and to experience the magic of the Himalayas, Camp O Royale in Dhanaulti awaits you. It's not just a camp; it's a world in itself, waiting to be explored.
A Day at Camp O Royale
Wake up to the chirping of birds and the first rays of the sun lighting up the Himalayan peaks. After a hearty breakfast, set out to explore the numerous trails that crisscross the region. As you hike, you'll understand why Camp O Royale is considered one of the best camps. The camp's strategic location offers access to some of the most beautiful treks in the region.
Post your morning adventure, return to the camp for a sumptuous lunch. The afternoons can be spent indulging in various camp activities or simply lounging with a book, soaking in the views.
As evening descends, gather around the bonfire. Share stories, sing songs, and relish the delicious barbecue. The clear skies above make for a perfect stargazing opportunity. As you lay down in your tent, the sounds of nature will lull you to sleep.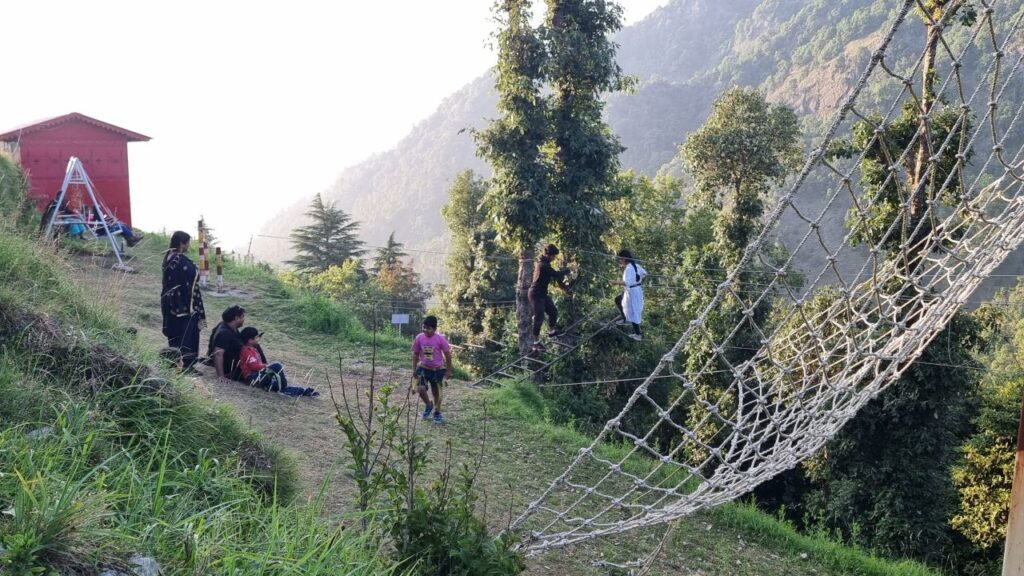 Conclusion
Dhanaulti, with its pristine beauty, is a haven for nature lovers and adventure enthusiasts alike. And Camp O Royale, standing tall among the camps in Dhanaulti, offers an experience that is both thrilling and soothing. Whether you're looking for a weekend getaway or a longer retreat, Camp O Royale promises memories that will last a lifetime.
So, the next time you think of camping in the lap of the Himalayas, remember there's no better place than Camp O Royale in Dhanaulti. Book your stay now and embark on an unforgettable journey!
FAQ
1. Are the camps in Dhanaulti following COVID-19 safety protocols?
Ans. Yes, most camps including Camp O Royale, have implemented strict COVID-19 safety protocols. These include regular sanitization, temperature checks, ensuring social distancing, and providing hand sanitizers. It's always advisable to check with individual camps for their specific measures and guidelines.
2. Do the camps in Dhanaulti offer digital detox packages?
Ans. Given the increasing demand for digital detox vacations, many camps including Camp O Royale, offer packages that encourage guests to disconnect from their devices and reconnect with nature. These packages include activities like nature walks, meditation, and journaling to enhance the experience.
3. Are there any eco-friendly or sustainable camps in Dhanaulti?
Ans. Absolutely! Many camps, such as Camp O Royale, prioritize sustainable and eco-friendly practices. They often use solar energy, promote water conservation, organize tree plantation drives, and use locally-sourced materials and foods to reduce their carbon footprint.
4. Can I book a camp in Dhanaulti for remote work or "workcation"?
Ans. Yes, with the rise of remote work culture, many camps have started offering "workcation" packages. These camps provide essential facilities like Wi-Fi, power backup, and dedicated workspaces while allowing guests to enjoy the serene environment during breaks. However, it's recommended to check with individual camps regarding the strength and reliability of their internet connectivity.
5. Are pets allowed in the camps in Dhanaulti?
Ans. Some camps are pet-friendly and welcome guests to bring their furry friends along. However, it's essential to check with the camp in advance regarding their pet policy, any additional charges, and the facilities they provide for pets.