Overview
Immerse yourself in the serene Himalayan wilderness with the luxurious Dhanaulti camping packages offered by Camp O Royale. Tucked away in the lush landscapes of Uttarakhand, Dhanaulti is the perfect escape from everyday life. These packages don't just provide a place to stay; they offer an unforgettable experience, crafting lasting memories far removed from the hustle of urban life. Choose Camp O Royale for an idyllic retreat where each moment becomes a cherished memory, all set against the backdrop of Dhanaulti's natural splendor.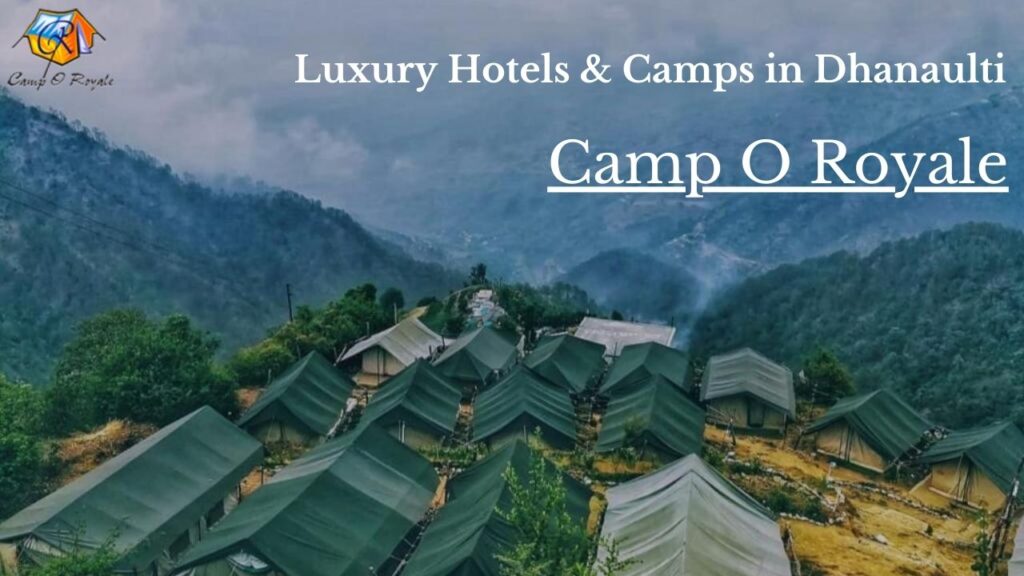 The Allure of Dhanaulti
Dhanaulti, serene and unspoiled, offers a tranquil retreat far from the bustling tourist spots. Its allure is in the gentle whispers of the forest and the simplicity of mountain life. Camp O Royale captures this essence in their Dhanaulti camping packages, promising a blend of natural beauty and luxurious comfort. These packages are not just stays; they are curated experiences that connect you with the raw elegance of Dhanaulti, all while ensuring a stay replete with premium amenities. It's here that you can truly unwind, surrounded by the majestic calm of the Himalayas.
Camp O Royale: Your Basecamp to Bliss
As the name suggests, Camp O Royale brings a regal touch to camping. It's where the concept of "glamping'—glamorous camping—truly comes to life. The Dhanaulti camping packages are designed to offer a blend of adventure and serenity. From the moment you step into your Swiss cottage or camp, you're greeted by the warmth of hospitality that Camp O Royale is renowned for.
Accommodation Fit for Royalty
The accommodations are a haven of comfort. Whether you choose a Swiss cottage or a luxury camp, each space is crafted to ensure that your stay is cozy and memorable. The plush beds, the rustic charm of the interiors, and the breathtaking views from your window all serve to create a storybook-like setting for your mountain retreat.
Culinary Delights to Savor
Dhanaulti's cool climate is perfectly complemented by the warm, delectable meals prepared at Camp O Royale. The dining experience is tailored to suit every palate, with a spread of cuisines that are as diverse as they are tasty. Each meal is an affair to remember, made with the freshest local produce, ensuring that every bite is a burst of the region's flavours.
Adventures to Stir Your Soul
The Dhanaulti camping packages are incomplete without the thrill of adventure. Camp O Royale offers an array of activities that cater to every age group and every thrill level. From hiking through the dense forests to partaking in adrenaline-pumping sports, there's never a dull moment. For those who find solace in quieter activities, the camps offer nature walks, bird watching, and stargazing—a testament to the varied tapestry of experiences that Dhanaulti offers.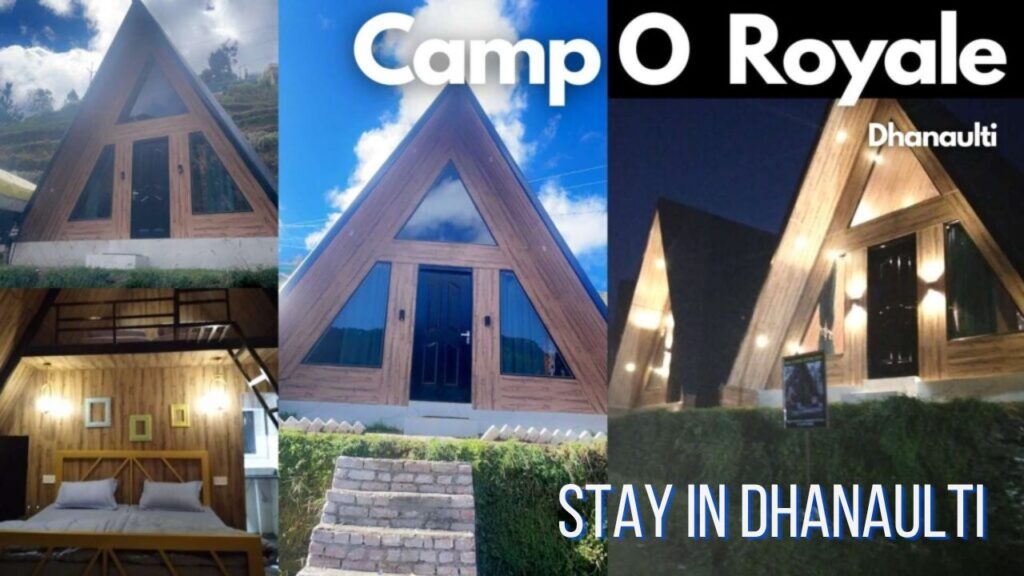 Crafting Your Dhanaulti Story
Every visitor to Dhanaulti has their own narrative, and Camp O Royale ensures that your story is one of a kind. The Dhanaulti camping packages are customizable, allowing you to choose the pace and the activities of your stay. Whether it's a family holiday, a corporate retreat, or a solo adventure, your Dhanaulti tale will be as unique as you are.
Sustainability at Its Core
In a world that's increasingly conscious of its ecological footprint, Camp O Royale stands out by embracing sustainability. The camps are designed to blend in with the environment, minimizing impact and maximizing conservation. By choosing these camping packages, you're also making a choice to support eco-friendly tourism.
The Camp O Royale Promise
The promise of Camp O Royale is not just in its luxurious offerings or its array of activities. It's in the experience of waking up to the sound of the mountains, of finding joy in the little moments, and of leaving with a heart full of peace. The Dhanaulti camping packages are your ticket to a world where nature and luxury coexist in perfect harmony.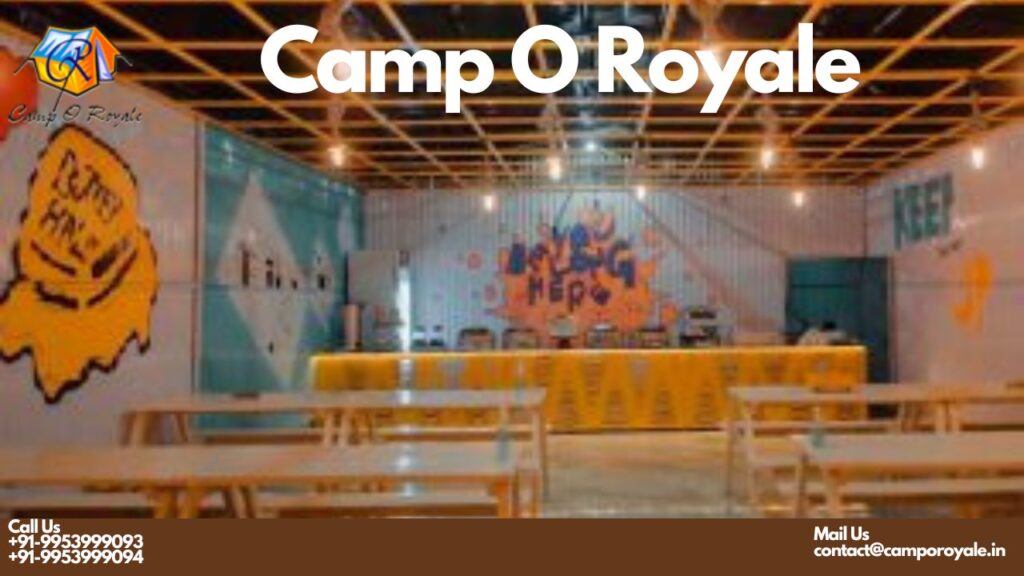 Conclusion
Embark on a journey to Dhanaulti, where the majestic Himalayas beckon and Camp O Royale promises an unparalleled mountain retreat. Opting for Dhanaulti camping packages transcends mere travel plans; it's an invitation to a transformative encounter with the wild. As you gear up for this adventure, envision more than just a getaway; foresee a profound reconnection with the great outdoors. With your essentials packed and your gaze fixed on the towering peaks, anticipate an escapade that will resonate within you long after it concludes. Choose Dhanaulti camping packages for a sojourn that's destined to become an indelible chapter in your life's story.
FAQs
1. What are the Dhanaulti camping packages?
Ans. Dhanaulti camping packages offer a comprehensive outdoor experience in the serene setting of Dhanaulti, nestled in the Himalayas. These packages typically include accommodation in tents or luxury camps, meals, and a variety of activities ranging from adventure sports to nature walks, ensuring a memorable stay amidst nature.
2. What types of accommodations are available in Dhanaulti camping packages?
Ans. Accommodations in Dhanaulti camping packages vary from basic tents to luxury Swiss cottages. They are equipped with amenities to ensure comfort without compromising the outdoor experience. Options may include attached bathrooms, comfortable bedding, and sometimes, even private sit-outs to enjoy the scenic views.
3. Are meals included in the Dhanaulti camping packages?
Ans. Yes, most Dhanaulti camping packages include meals. The menus are usually designed to cater to a variety of tastes, often featuring local cuisine made from fresh, regional ingredients. Some packages may offer the option to customize meals for dietary restrictions or preferences.
4. What kind of activities can I expect with Dhanaulti camping packages?
Ans. Dhanaulti camping packages are known for their range of activities suitable for all ages and interests. Activities often include trekking, rock climbing, zip-lining, and bonfires. For those looking for a more relaxed experience, bird watching, yoga, and stargazing are also popular.
5. How do I book a Dhanaulti camping package and what is the best time to visit?
Ans. Booking a Dhanaulti camping package can be done directly through the websites of camps like Camp O Royale or through travel agencies. The best time to visit Dhanaulti for camping is from March to June and from September to November when the weather is pleasant and conducive to outdoor activities.